Ben Jacobs, 'Guardian' Reporter, is Body-Slammed by Politician in Montana
Greg Gianforte lost his temper, and it may lose him the election.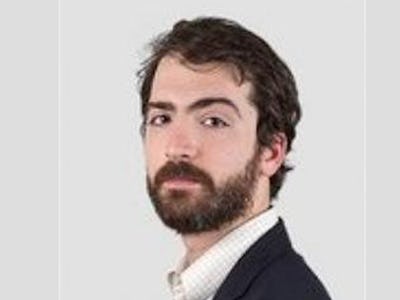 YouTube User: "mobile uploads'
At a meet-and-greet on Wednesday for his campaign, Greg Gianforte, the leading Republican candidate in Montana's special election set for Thursday, reportedly body-slammed a journalist for The Guardian. Audio footage documents Gianforte apparently assaulting reporter Ben Jacobs at the event, which took place at Gianforte's campaign headquarters in Bozeman, Montana.
In the audio clip, which was uploaded to YouTube afterward, Jacobs asks Gianforte for his reaction to the newly-released report from the Congressional Budget Office analyzing the cost of Trumpcare.
"You were waiting to make your decision about healthcare until you saw the bill, and it just came out," he begins, before Gianforte cuts him off: "We'll talk to you about that later."
"Yeah, but there's not going to be time, I was just curious," Jacobs continues, before being interrupted again. "Okay, speak with Shane, please."
The audio footage doesn't make clear exactly what happened next, but there's scuffling on the line, and Gianforte starts shouting, "I'm sick and tired of you guys! The last time you came in here you did the same thing! Get the hell out of here!"
When the commotion ends, Jacobs says, "You just body-slammed me and broke my glasses," and adds that he'd like to call the police.
Later, Jacobs tweeted, "Listen to me get body slammed in Montana."
Here's that audio:
BuzzFeed News reporter Alexis Levinson was present for the altercation and posted this account to her Twitter. She also noted that Gallatin County Sheriff's officers were taking witness statements.
This was behind a half-closed door, so I didn't see it all, but here's what it looked like from the outside, Ben walked into a room where a local TV crew was set up for an interview with Gianforte. All of the sudden, I heard a giant crash and saw Ben's feet fly in the air as he hit the floor. Heard very angry yelling (as did all the volunteers in the room) — sounded like Gianforte. I can't quite remember the order, but the next few things were someone slamming the door, Gianforte's [spokesperson] walking into the room, Ben walked out holding his broken glasses in his hand and said, "he just bodyslammed me." The aide came over and told him he had to leave. Ben left, Gianforted and his aide went into a room and closed the door; stayed there for about ten minutes, then they walked out and only the aide came back in. There are cops here too — and the firefighters told me they were talking to someone inside, but I don't know who. And Gianforte's aides have been behind closed doors in and out since then. Gianforte is now in a car with aides driving away. he is leaving the event without speaking. I asked his aide what was going on and he wouldn't answer. Gallatin County Sheriff's now taking witness statements. To be clear, this all went down in Bozeman, Montana, at an event that was advised as a campaign meet and greet for Montana HQ.
Jacobs has a lengthy journalism resume, according to a LinkedIn page set up in his name. He's been at The Guardian since March 2015. Before that he was a reporter for The Daily Beast from June 2013 to February 2015, and freelancing a year previously. Before that it was a stint at Newsweek and a few months as a contributor to the editorial page of the Boston Globe. Jacobs has a law degree from Duke University.
At The Guardian, he has reported doggedly on the White House and politics, including the scandal over Donald Trump's possible connections to Russia, the federal budget, and healthcare, which was the source of the conflict on Wednesday.
Polls open in the at-large congressional district special election Thursday morning. Gianforte's opponent is Democrat Rob Quist and Libertarian Mark Wicks. The election became necessary after Ryan Zinke was appointed as U.S. Secretary of the Interior.