Why Pornhub Visits Are Shorter Than They Used to Be
A surprisingly impressive stat for the tube site giant.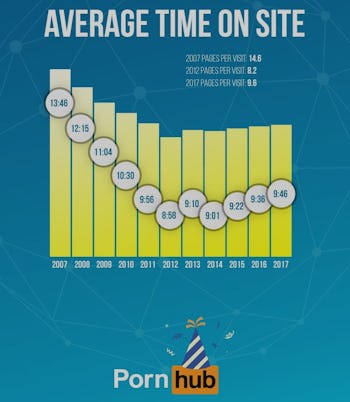 Pornhub
Pornhub, the world's most popular porn site, celebrated its 10-year anniversary on Thursday. To mark the occasion, Pornhub Insights, the branch of the website responsible for the massive end-of-year world map that was released in 2016, went on a data-gathering frenzy to measure how the site has changed since its establishment in 2007.
One of the more intriguing bits of that analysis came with regards to how long people spend on Pornhub per visit. Despite growing to 75 million daily users and sporting 10 million videos uploaded in 2017, the average time that users spend on the site has actually decreased.
In 2007, the average visitor spent 13 minutes and 46 seconds at a time on the site. A steady decline is visible in the years that followed, bottoming out at 8 minutes, 58 seconds in 2012. As of 2017, the figure has risen somewhat, to 9:46, but it's still much lower than it was.
The temptation might be to chalk the declining time-on-site stat up to the shorter attention spans that people are said to have these days. But Corey Price, Pornhub's VP, tells Inverse by email, that's not exactly the case.
First, Price points to rising internet speeds.
"The speed of the internet in general has increased, and for many international countries the penetration of broadband has grown considerably. This all leads to a reduction in the amount of time people need to spend on the site," he writes.
So, yeah, Pornhub might just be used as a metric for gauging the world's internet infrastructure.
Second, Price credits the tube site's own optimizations.
"As traffic has increased, we have worked hard to optimize the performance of the Pornhub website, meaning that it takes less time for people to find the best video that does the job for them," he writes. "In particular, we have worked on optimization of the mobile site as more visitors have gone toward those devices. So in fact the reduction in time on site is a positive from our point of view."
The rise of mobile devices is also certainly a factor, as non-desktop users have surged to 75% of Pornhub's total traffic, up from 56% in 2014 and 1% in 2008. And desktop users do spend more time on the site, averaging 11 minutes and 3 seconds worldwide compared to 9 minutes and 26 seconds for mobile users, Price says.
As for the slight uptick after 2012, Price attributes that to more users making use of Pornhub's social features.
Instead of going strictly to Pornhub for videos, our registered users are likely to check for messages from their friends, and browse updates from the channels they are subscribed to, either before or after they look to watch porn videos.
One way or another, porn users seem to be have it easier than ever.
See also: VR Porn is Growing Incredibly Fast