This Stunning iOS 11 Concept Makes the iPad Useful Again
The iPad hasn't looked this exciting in years.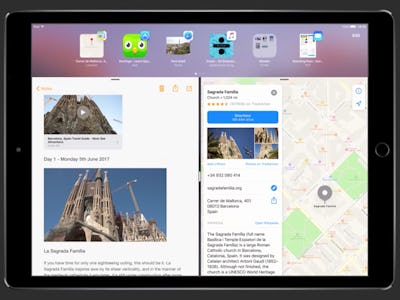 MacStories/YouTube
The iPad was a technological masterpiece when it was first unveiled in 2010, but it's grown kind of tired at this point. The 9.7-inch display was genuinely useful back then, when most phone screens were only around four inches, but in the age of six-inch behemoths, Apple's tablet has struggled to make the case for why a consumer needs to carry one.
Enter iOS 11. The iPhone and iPad's next major software update is expected to be unveiled at the Worldwide Developers' Conference on June 5, and a new concept video from MacStories details some unique features that would put the iPad's larger screen to use in a way that could give it an edge over the iPhone.
First up is an altogether more interactive form of split-screen multitasking. With two apps side-by-side, users can now drag and drop photos, text clippings, and other information between apps. A shelf, accessible by pulling down on the screen with three fingers, enables users to store and manage dragged clips for a later date, a more advanced form of cut and paste.
Apple brought split-screen multitasking to the iPad two years ago with iOS 9, but since then the feature has gone largely unchanged. Whereas on a regular computer multitasking allows for easy content sharing between apps, on the iPad apps remain a largely closed-off affair.
This lack of development has also made choosing apps rather stressful. In multitasking mode, users are offered a list of apps based on most recently used. There's no option to call up a more familiar home screen-style app picker. In this concept, apps are chosen through a miniaturized version of the home screen, complete with the familiar page-based layout.
Another often-requested feature included in the concept is an iOS version of Finder. An official version of the file picker present on Macs has yet to make an appearance on Apple's mobile devices, with an app-centric approach requiring users to open an app to retrieve and manage documents associated with that app.
The concept also includes a number of professional-centric features, like the ability to create folders within folders in the notes app and smart folders for mailboxes. Apple has made some steps toward attracting professionals back to the iPad, with an official stylus and a magnetic keyboard system, but combined with the Finder, these could add up to an altogether more attractive package.
Hopefully all will be revealed come next month.