What Apple's Pencil Can Do for Medical Care
The new stylus and other iPad tweaks could go a long way to making medical news easier to swallow.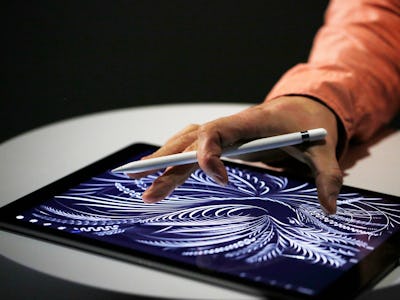 Getty
Today's Apple event didn't really do much to address the problems I outlined this week about Researchkit. In fact, just about the only real improvement we learned today was that the new iPhone display will feature 3D Touch, which will allow people to press the screen extra-hard for extra information. I suppose that's neat.
Oh, and we also learned Dennis H. lost 30 pounds. Congrats, bruh.
While Researchkit will continue to languish in its issues, Apple did unveil the new iPad and — more importantly — Pencil, the stylish new stylus to accompany the tablet. That, surprisingly, could be the best piece of news, and most likely to improve the healthcare industry, to come out of Apple's big day.
Steve Jobs decried a tablet stylus as being a sign of failure, but Apple has thankfully moved on from that mentally. Pencil has a unique ability to detect position, force, and tilt. For medicine, this is extremely important. Anatomical illustrations can't just be an approximate look — they need to be visually accurate to the smallest detail. Pencil helps allow for precise drawing better than a standard piece of plastic ever could.
Irene Walsh, head of design for 3D4Medical, spent a few minutes on stage demonstrating how to use Pencil to play around with medical imagery, make annotations, modify pictures accordingly, and organize data in ways that make more sense for the user. For starters, this could be very useful for med students trying to navigate strange anatomical designs and figure out what might be wrong with a hypothetical patient.
Walsh spent quite a bit of time spinning around a 3D tibia, showing the contraction and relaxation of a quadricep muscle. Pencil to pinpoint and cut up 3D slices of the muscle to better illustrate the anatomical components of the leg.
None of this was exactly impossible to do before Pencil, but the new stylus makes it much easier for a doctor to show what this would realistically look like.
Pencil might be the nudge that gets hospitals nationwide to adopt iPads for helping doctors and patients communicate. And it might also be very well ignored — after all, a $99 price tag for a damn stylus is not exactly appealing for any business, no matter how much money it's swimming in. Ultimately, though, the biggest hurdle will be giving doctors an incentive to adapt — never a sure thing. We'll have to wait and see.
In the meantime, here's hoping the Apple Watch continues to help Dennis H. lose weight. Thirty more pounds! Thirty more pounds!