Watch a Hero Return in The CW's 'Black Lightning' Trailer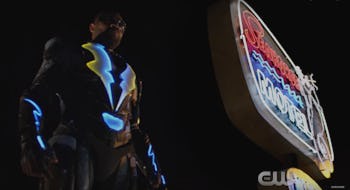 YouTube.com/The CW Television Network
Television might be packed with superheroes such as Arrow and Supergirl, but DC Comics and the CW are sending another jolt to the system in Black Lightning set to debut this fall. The first trailer shows off DC's first black superhero in his live-action debut as a retired superhero and high school principal who puts on the suit once again to fight crime.
Produced by The Game creators Mara Brock Akil, Salim Akil, and Arrowverse shepherd Greg Berlanti, Black Lightning stars Cress Williams (Hart of Dixie) as high school principal Jefferson Pierce, a retired superhero who left to take care of his daughters. But since crime never retires, their New Orleans neighborhood continues to be plagued by a criminal gang called the One Hundred. And when they target Pierce's family, he resumes his vigilante duties as Black Lightning.
The CW's Black Lightning looks and feels like a typical CW drama with the appropriate superhero sheen, similar to Arrow and The Flash. But like Luke Cage, there's a distinct black identity that allows the show to truly stand apart from most other TV shows based on Marvel and DC properties. The CW's network president, Mark Pedowitz confirmed that Black Lightning isn't in continuity with the Arrowverse and will not be included in the annual DC TV crossover. However, given that the Multiverse is well-established, it's not impossible that Black Lightning exists on, say, Earth-7 or something.
Check out the trailer for Black Lightning below.