The CW's 'Black Lightning' Isn't Part of the 'Arrowverse'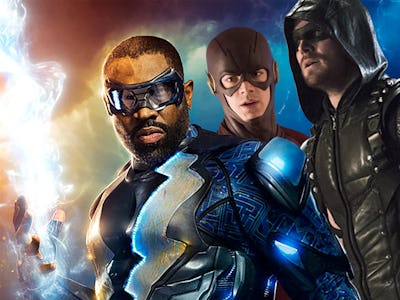 Warner Bros. Television
The CW's Arrowverse is one of the biggest and busiest shared superhero universes out there right now, with the Flash, Green Arrow, and occasionally Supergirl out fighting crime with all their friends. However, one superhero won't be joining them, as the network has revealed that its upcoming Black Lightning series won't be part of the Arrowverse.
"We do not aim to do a five-way crossover," CW President Mark Pedowitz told press before The CW Upfronts on Thursday, according to Entertainment Weekly. "Black Lightning, at this time, is not part of the Arrowverse. It is a separate situation. But there will be a big fourth quarter crossover with all four of the shows that are on in the fall."
This news isn't exactly shocking. Back in January, the executive producer behind most of the Arrowverse, Greg Berlanti, said it would be "unlikely" that the new show would share continuity with the existing four. In this way, it's kind of like Supergirl, which doesn't take place in the same universe as The Flash, Arrow, and Legends of Tomorrow normally, but she has visited their world to participate in crossovers fairly regularly. Black Lightning could, eventually, do the same, though it doesn't seem like there are any plans for that in the near future.
The CW also shared an extended plot description for the upcoming series, which you can read below.
Jefferson Pierce (Cress Williams) is a man wrestling with a secret. As the father of two daughters and principal of a charter high school that also serves as a safe haven for young people in a New Orleans neighborhood overrun by gang violence, he is a hero to his community. Nine years ago, Pierce was a hero of a different sort. Gifted with the superhuman power to harness and control electricity, he used those powers to keep his hometown streets safe as the masked vigilante Black Lightning. However, after too many nights with his life on the line, and seeing the effects of the damage and loss that his alter ego was inflicting on his family, he left his Super Hero days behind and settled into being a principal and a dad. Choosing to help his city without using his superpowers, he watched his daughters Anissa (Nafessa Williams) and Jennifer (China Anne McClain) grow into strong young women, even though his marriage to their mother, Lynn (Christine Adams), suffered. Almost a decade later, Pierce's crime-fighting days are long behind him…or so he thought. But with crime and corruption spreading like wildfire, and those he cares about in the crosshairs of the menacing local gang The One Hundred, Black Lightning returns — to save not only his family, but also the soul of his community.
Black Lightning doesn't have an exact premiere date yet, but Pedowitz said it's highly unlikely that it will air its seasons while the Arrowverse shows are airing theirs.