What to Know About the Next DC TV Superhero, Black Lightning
Fox is about to get a new hero. Here's the quick and dirty on Black Lightning.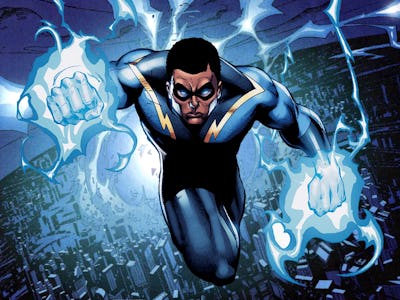 DC Comics
Superhero TV is about to get a jolt to its system. Black Lightning, a school principal with flashy superpowers, will make his way to live-action TV in Black Lightning. Produced by The Game creator Mara Brock Akil, Salim Akil, and shepherd of the CW's Arrowverse Greg Berlanti, the pilot was sold to Fox and will join a packed slate of DC properties on TV. Whether or not Black Lightning actually joins continuity with Arrow, The Flash, Supergirl, and Legends of Tomorrow is up in the air, but for now, most are probably just wondering: Who is Black Lightning?
One of DC's first black superheroes, Black Lightning debuted in the premiere issue of his self-titled comic in 1977. A gold medal Olympian, Jefferson Pierce was born and raised in the lower-class Metropolis neighborhood of Southside, nicknamed "Suicide Slum." Returning home with his wife and teenaged daughters, Pierce becomes a high school principal but is pushed to use his repressed powers after a student is killed by an organized gang called the 100. In the comics, Black Lightning became significant enough that he was given an invitation to join the Justice League, but he turned them down.
Black Lightning was created by Tony Isabella and Trevor Von Eeden and was made to replace an earlier, legitimately terrible idea called the Black Bomber, a white racist who turned into a black hero when he got mad. After Black Lightning, several more superheroes of color at DC followed, including Mr. Terrific, Vixen, John Stewart (Green Lantern), and Static. (Bumblebee, DC's first black superheroine, appeared a year prior in 1976.)
There isn't a deep library of Black Lightning comics to check out; the character more often than not appeared in guest roles as opposed to his own titles. In fact, the first Black Lightning series was among the dozens canceled in the DC Implosion of 1978. But there are still great books out there, including Black Lightning: Year One from Jan Van Meter and Cully Hamner and a five-issue arc in DC's anthology book DC Universe Presents by Marc Andreyko in which he was oddly paired with the Blue Devil. In 2013, DC republished Black Lightning's debut series in a new trade paperback collection.
It will be awhile before more is revealed about Black Lightning. As of now there are nothing in the way of casting news or sweet costume reveals. Berlanti said at this year's TCA press tour that it is "unlikely" that Black Lightning will be included in DC's growing family of television programs; Gotham and Lucifer — both DC TV shows also on Fox — remain away from the Arrowverse's group of time travelers, meta-humans, aliens, and urban ninjas. But since Black Lightning is classified as a meta-human in Metropolis, perhaps hanging with the Flash and Supergirl isn't totally out of reach.