'South Park: The Fractured But Whole' Farts Out a New Trailer
Get ready to have a gas this fall.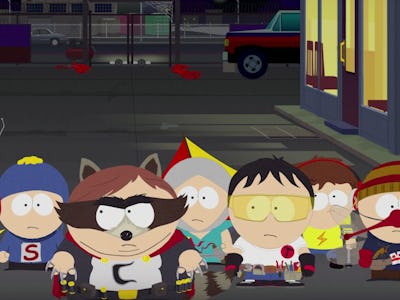 Ubisoft
For a while, it seemed like Ubisoft was constipated, since the developer's second South Park video game, The Fractured But Whole, kept on getting delayed. But, on Wednesday, they finally confirmed a release date for this fall and shared a new trailer for the game, highlighting the player character's farting superhero.
We already knew that The Fractured But Whole was going to satirize Marvel and DC's massive superhero franchises, and this latest trailer gives us a better look at the superhero action. It opens with one of South Park's weird journalists, a midget in a bikini, letting viewers know about a "farting vigilante" who has declared a war on crime. During this bit, we get a sense of what type of flatus-based powers players are going to be able to deploy as they pass gas to battle baddies.
"You need to go out into the town and do superhero stuff," Cartman tells the player character in a cutscene. "You know, help people, and fight crime, and dumb shit like that."
South Park: The Fractured But Whole is a sequel to South Park: The Stick of Truth, an RPG with similar gameplay, and the long-running animated series' signature humor that parodied Lord of the Rings and The Elder Scrolls games. The follow-up will be out on Xbox One, PlayStation 4, and PC on October 17.