The Music from 'South Park: The Stick of Truth' Remains Straight Fire
One track from the 2014 game's soundtrack summed up what no words could.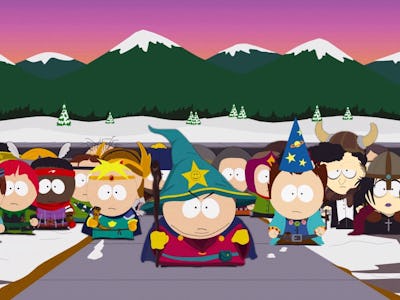 Ubisoft
South Park: The Stick of Truth made numerous "Best Of* lists after it was released in 2014. But, though it was lauded for unexpected depth, sharp satirical humor, and sometimes genre-defying presentation, there's one part of the game that never got its due: the soundtrack. It was great. It is great. It will forever be an example of what video game music can – and should – be.
A loving parody of Final Fantasy, The Elder Scrolls – and pretty much everything J.R.R. Tolkien ever touched –The Stick of Truth was a comprehensive, console RPG set in the sleepy mountain town from Matt Stone and Trey Parker's Emmy-winning Comedy Central series. As a new kid in South Park, you participate in the neighborhood game wherein backyards are kingdoms that guard enchanted treasures.
The plot thickens with aliens and a government conspiracy, but for the most part The Stick of Truth is a game that plays out kids smacking each other with golf clubs and wooden swords in typical (https://www.inverse.com/article/18605-best-dungeons-and-dragons-shows-on-podcasts-and-video) turn-based gameplay.
Unremarked upon at the time, though, was how Stick of Truth captured the quiet moments of living an imaginative fantasy. Of great help was one song from the soundtrack in particular, "Truth… Saint Truth-Sanctus Saint."
Played throughout the game, it's most impactful in the early stages when you've just joined Cartman's Kingdom of Kupa Keep, or KKK. South Park is the world to which a garage-budget fantasy is conjured: All the kids, including Stan, Kyle, Kenny, and more have brandished baseball bats and Nerf crossbows into medieval weapons whilst donning armor made of duct tape, football pads, and bathrobes. With a mix of immersion and familiar gameplay — anyone who spent childhood playing Chrono Cross can play Stick of Truth with ease — the game's whimsical and epic score carefully reminds you how childhood games, or even video games, are all about having fun and being lost.
When the 20-minute "Truth… Saint Truth-Sanctus Saint" plays on loop, it's in between missions and errands you conduct around town. It's when you loot through chests, duffel bags, and unlocked garages for coins and unexpected upgrades which sometimes come from the minutiae of South Park lore. It's when you see your flawlessly implemented avatar, perhaps made in your likeness, leading a party with Butters or Stan in Halloween costumes playing a game they're taking seriously. In those moments, that's when the trumpets soar and wind instruments underscore the poignancy of a bygone childhood, where commitment to imagination unlocked new worlds.
As a regular visitor to renaissance faires and haunted houses, I've tried hard in adulthood to recapture that commitment to imagination. I won't try to make up whatever psychology may or may not be at play, but with how popular renn faires and cosplay are at Comic-Con, I simply can't be alone in thinking about this.
"Truth… Saint Truth-Sanctus Saint" sounds just epic enough that you could mistake South Park for Middle-Earth. It's whimsical enough to remind you Kupa Keep was built upon household items and these kids' yearning for escape, like Steven Spielberg's suburban communities feel in E.T. and The Goonies. With its tightrope walk between parody and sincerity, the music captures the true magic of a cheap neighborhood game.
A superhero-themed sequel, South Park: The Fractured But Whole, arrives in December.
The fantasy theme is abandoned, but let's hope an equally uplifting song makes its way into the new adventure.