New 'Transformers: Last Knight' Trailer Has a Robot Junkyard Dog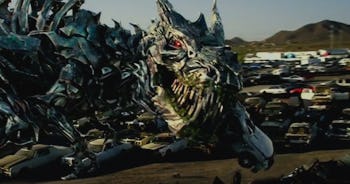 'Transformers: The Last Knight'
The latest international trailer for Transformers: The Last Knight dropped Wednesday, and in it, we get even more footage of the beloved Dinobot Grimlock acting like Cade Yeager's (Mark Wahlberg) giant robot junkyard dog, swallowing derelict police cruisers and vomiting them back up like they're chew toys. Wait, Transformers have bile ducts?
The trailer also furthers the confusion surrounding whether or not Anthony Hopkins's Sir Edmund Burton is evil, this time making him seem like the wealthy, good-natured catalyst who brings Yeager together with a kidnapped Oxford professor, Viviane Wembly (Laura Haddock), to unlock the "secret history of the Transformers."
With Optimus gone and mankind still at war with Transformers, it's up to Yeager and Wembly — with Bumblebee and some other Autobots — to uncover the past. Along the way, Optimus kills more Transformers than you can count, and a human-sized robotic messenger walks Anthony Hopkins's dog.
The Last Knight will finally explain why Transformers have been obsessed with Earth for so long, and it has a lot to do with medieval humans working together with ancient Transformers. There'll be a King Arthur, maybe even a Merlin, and hopefully some answers.
Check out the trailer here:
Transformers: The Last Knight hits theaters June 21.