How to Make Real Money in Virtual Reality
A 360-degree-look at where to find financing and customers in the rising world of VR.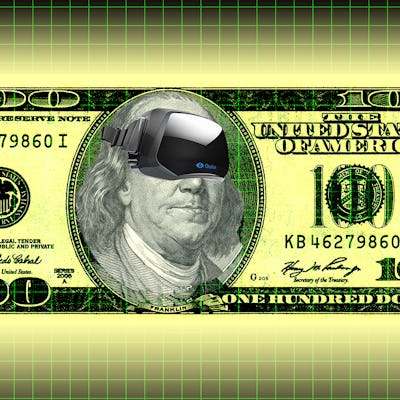 Sarah Hill doesn't seem like the most obvious person to be a player in the booming virtual reality space. Hill spent twenty years as a local TV news reporter. She's not a programmer. And she's not located in Silicon Valley, Los Angeles, or New York; Hill has long been based in Columbia, Missouri. But the founder and CEO of the socially conscious production company StoryUp has become a model for how to succeed in the uncertain world of VR, where the mere projection of a bright future alone is no longer enough to keep the lights on for would-be developers, artists, and entrepreneurs.
The market for virtual reality is projected to hit $25 billion by 2021, but a shot at a piece of that monster jackpot requires a very high buy-in. Whereas movie production was democratized by smaller equipment in the '70s and '90s and revolutionized in the early 2000s with digital tech — the cliche that you can make a movie on an iPhone is true — VR costs remain out of reach for indie filmmakers. Even producing the shortest VR project is outrageously expensive.
"Right now you're going to be hard-pressed to make a really compelling VR experience for less than $50,000," says René Pinnell, the founder of VR creator community Kaleidoscope. "That's sort of the floor, and typically at the $50,000 range you're gonna be looking at something that has a run time of five to ten minutes. You're looking at somewhere between $5,000 and $10,000 per minute, and that's scalable."
Arthur Goikhman, who runs the startup VR game developer Surreal VR, says his company spent several years "developing a framework that enables rapid development of avatar-based games," and even still, development of each new game costs about $100,000 apiece. It's big money, and both Surreal's average cost and Pinnell's estimate apply more for creators that are well-equipped and trained. That's often not the case, especially this early in the game, as the technology is still developing and people are just entering the field.
"Starting an immersive media company is incredibly expensive; initially, I put in $50,000 of my family's money to pay for equipment, but that's just a fraction of what's needed to sustain a VR company," Hill explains, noting that she and her husband have now invested $100,000 in the company. "If you're doing VR, you're likely also doing mixed reality with photogrammetry and videogrammetry, so you also have to purchase depth kits and software. For VR video, you can purchase a six-camera GoPro rig with accessories for about $6,000 — but you still need training, liability insurance, data storage space, high-end computers to process the large video files, stitching, post-production software, and most importantly, customer acquisition."
The reality is that few people have that kind of capital, even the most talented and highly trained VR artists and programmers. Pinnell and his team at Kaleidoscope have gone on road tours the past few years, showing off cool projects and meeting with both established and aspiring VR filmmakers across North America, Asia, and Europe. "We'd always ask the artists who we really respected, what do you really need help with?" Pinnell remembers. "And the single most consistent problem that they all had was funding."
At the moment, there's no obvious demand for the technology, or a slam dunk practical use; some of the most frequent non-game formats for VR include 360-degree virtual tours, nature explorations, empathy-building videos shot in war-torn regions, and comedy experiments. But none have been particularly profitable, and that's a major hurdle because it makes it hard to pitch a project to investors.
There are plenty of places willing to help out creators, including artist-driven groups like the Sundance Institute, the indie film incubator that now hosts an annual lab for half a dozen virtual and immersive reality storytellers. But getting some actual scratch is tough. VR projects are often done with little upside or profit potential, given just how few VR headsets are in consumers' hands right now — one estimate suggests just north of six million headsets were shipped in 2016, a vast majority of which were the lower-end Samsung Gear VR. Some of the better sets, like the Oculus and HTC Vive, cost upwards of $800, and require souped-up computers that can cost hundreds more. Even the high-end estimate of 10 million headset units shipped last year is just a relative drop in the bucket in the media landscape.
Where the VR Money At
Given the expected financial upside and creative opportunities in VR, there are plenty of dreamers working to pioneer the form. Kaleidoscope is now focused on helping creators raise money, connecting the dots for artists so that they can focus on the actual work. The company has identified 120 different sources of potential financing, the most prominent of which are the VR headset makers themselves.
Facebook — though it just dissolved its internal Oculus Story team — is still committed to pumping $500 million into a fund to invest in companies developing content for the platform. Meanwhile, HTC has pledged $100 million to do much the same for its Vive. Playstation, LG, and Google are other companies on this level, which represents about $700 million of pledged financing altogether, according to Pinnell.
"They know that in order to sell more Oculus Rifts or HTC Vives," Pinnell says, "they need to have a robust content ecosystem that needs to get a lot of good, high-quality stuff for people to get when they go buy a piece of hardware."
For the most part, that $700 million will be invested in promising start-ups, with business plans and content already in development. Facebook wants to invest its money entirely with third party developers who make games, social apps, art, and social good projects; $50 million of that cash will be specifically earmarked for developers working on non-gaming storytelling projects.
The second-biggest source VR financing thus far has been traditional media. Having been caught somewhat off-guard by the major changes wrought by the internet, media companies are making an effort to be ahead of the curve, even if it's unclear where it's leading. The New York Times has experimented with virtual reality with some success over the last few years, and the Discovery Network has its own VR unit now. Other traditional media companies that have invested in VR — up to $200 million thus far, according to Pinnell's count — include Viacom, Comcast, FOX, Annapurna, BBC, Arcade France, IMAX, and Time Warner.
Notably, Comcast — which owns Universal Studios — invested $6.8 million in Felix & Paul, a Montreal-based VR studio that has done work with the White House, Funny or Die, and other partners on full-fledged projects. Miyubi, Felix & Paul's collaboration with Funny or Die, was particularly notable as a 40-minute movie that existed on its own terms.
That investment marked a major step in the way media companies appear to regard VR's potential. MGM helped a startup called Survios raise $50 million, while Viacom started Viacom NEXT in 2015 for in-house VR projects.
"A lot of the companies are just experimenting with VR as a marketing vehicle for an [intellectual property] that they already have," Pinnell says, a nod to the promotional "experiences" made for big action movies and niche TV shows. "But there are some companies who are viewing virtual reality as more than just a marketing vehicle. They see it as an important medium that has the potential to restructure the whole entertainment industry and so they're actually investing in original content."
In some cases, companies are actually soliciting VR filmmakers for help producing projects that are already planned and conceptualized. One such company is LittlStar, which provides both assistance in making VR projects and a platform to house them when they're complete. Their clients include most major film studios, as well as TV networks and magazines, and the company often serves as a liaison to the filmmaker community.
"We were working with the WWE, and they said, 'Oh, we need a producer in Pittsburgh, and we need one in New York for two different shoots,'" Matthew Collado, LittlStar's co-founder and chief creative officer, tells Inverse. "So I brought out production partners to actually go out with a Nokia OZO to go shoot it, cut it, and then deliver it to Littlstar, and then we published it out."
The ambition and formalization of the medium is creating opportunities for freelancers with traditional and VR-specific skills to make money and build up a portfolio. It's a crucial step for individual artists in the field — though the corporate largesse is beginning to come with strings attached.
"A lot of clients are also trying to figure out how do they get their return on investment, because they don't want it to just be a marketing piece," Collado says. "We're talking about rolling out monetization later this year, whether it be paywall, subscription, or some blend of that."
Right now, most games and videos are available on platforms like the video game hub Steam and mobile app stores, either for free or small fees, but it's still very early in the market's development.
Money in Non-Profits
Like all art, VR projects can be adjusted for size and scope; there are the games meant for mass download, be also one-off efforts for singular audiences. Amoeba, a small creative team based in the UK, has spent much of the last three years doing VR work for galleries and museums, with solid returns; Scott, the group's co-founder, says they average £15-60,000 per installation.
Amoeba's "Kalimpong" project, for the Timothy Taylor gallery in London, was built to be seen only in one location; it is a large-scale installation about the Dalai Lama's escape from Tibet in the early 1960's. Like many of Amoeba's projects — including one for the 2020 Tokyo Olympics — you'd have to go to a certain location to partake. It makes for a unique experience that points to a future of bespoke VR art in addition to mass-produced, downloadable projects.
Sarah Hill's group does both custom and mass-distributed consumer VR.
The discontinuation of Google Glass in 2014 (RIP) threatened the virtual tours of the World War II Memorial that the Veterans United Network was giving to aging, immobile vets. Hill, then the organization's chief storyteller, was looking for a way to continue the project, visiting conferences about new forms of immersive storytelling. The group wound up employing VR as the basis of Honor Everywhere, a next-level version of the initial Google Glass project.
"When we saw the Veterans' reactions to our stories, we were hooked," Hill says. "They weren't just watching the story, they appeared to be feeling it. Intrigued, we decided to test how immersive story affected physiology."
Teaming with the NeuroMeditation Institute in Oregon, they commissioned a study that discovered how various methods of storytelling could impact brainwaves. "We discovered that different storytelling inputs could affect the gamma or stress activity in the brain," she says. "It formed the basis for our provisional patent on immersive story therapy."
StoryUp is now focused on creating stories that "shift brainwave patterns into pro-social emotional states," through "non-fiction VR storytelling that has emotional impact." It is generating revenue through its "Mind Spa" which uses patent pending tech to create VR experiences that output specific brainwave patterns; the service counts corporate wellness programs, nursing homes, and other high-stress arenas as clients. The company also works with huge foundations and blue-chip corporations, and its best-known projects chase impact, not profit.
"We created a VR experience for the American Heart Association that allows people to step inside the story of someone experiencing a stroke," Hill says. "Potential donors had the chance to see what this patient saw as her vision suddenly went away and understand why not recognizing warning signs can be deadly. Foundations and charities understand the importance of VR as an empathy tool as it creates unique memories."
The company has also worked with Empowered by Light, which commissioned the company to create a VR experience about energy poverty in Africa, and Oculus's own VR for Good series. For that project, StoryUp's "See Beyond Labels," which is being shown at Cannes, gives users a chance to "step inside the stories of people of different races, religions, genders, abilities and ages, to check their bias."
StoryUp's VR experiences are available on their app on multiple platforms — IOS, Android, and GearVR now, with Vive, Daydream, and Playstation soon to come; the company is showing two of its projects at a special presentation segment of the Cannes Film Festival right now, to help build buzz. The sooner technology becomes more common and cheaper to access, the sooner their ambitions become reality. "Currently, we have more than 100 aging WWII veterans on a waiting list," Hill says, "waiting for goggles so they can experience their memorials in virtual reality."