Virtual Reality Has Arrived, With Japanese Robots and Space Painting
Two films at Sundance show off VR's promise. Finally.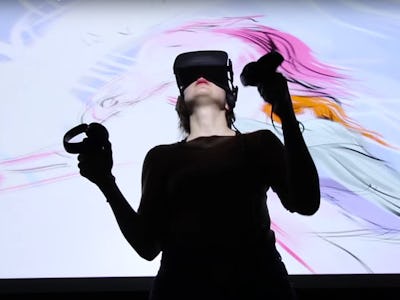 Last year, I spent a lot of time wandering the New Frontiers exhibition at the Sundance Film Festival, strapping on headsets and briefly stepping into mostly unfinished virtual worlds. A few were impressive, or at least intriguing, but it didn't quite feel like I was getting an early look at the Next Big Thing in entertainment, as virtual reality has been billed as for years now.
On Saturday, I finally saw two projects that seemed to me like real steps towards realizing virtual reality's potential.
First up was a 40-minute comedy called Miyubi, a collaboration between Felix & Paul Studios and Funny or Die; I watched on a Samsung VR headset that was powered by Oculus. Félix Lajeunesse and Paul Raphaël's Montreal-based studio has produced over 20 VR films, many of them for celebrities (they did a cool videos with LeBron James and the Obamas) and movie studios. They've made supplementary content in promotion of big Hollywood films like Wild and Jurassic World, along with a few originals (including one with Patrick Wilson called Nomads) so they were excited about doing with an original story and cast of characters again.
And Miyubi is totally original: Set in 1982, it tells the story of a year in the life of a suburban family but through the eyes of a Japanese toy robot. Miyubi was brought home from Japan by a dorky father for his adorably dorky son Dennis, and the robot becomes the little boy's confidant and best friend.
The family goes through the prototypical struggles of '80s suburbia: The oldest son is a wannabe rebel punk, the dad works too hard and travels too often, the mother is creatively frustrated at home, and the World War II vet grandfather is starting to slip into dementia. We see the drama play out from the point of view of the robot, which has its own story arc as well.
"The story goes from you being the greatest wonder in the world and being loved, to gradually being more and more obsolete and abandoned by the family who loved you in the first place," Lajeunesse explained. And even though you are supposed to be a toy robot, you can't help but feel emotional about your slow decline into irrelevance; that your memory and battery begin to go, and your vision begins to short-circuit, adds to the feeling of hopelessness.
The film feels like immersive theater, placing you in the middle of tension-filled single-setting scenes. As Miyubi, you're both an observer and often a minor participant, asked by characters to talk or silently empathize with their problems. It's more or less a dynamic 360 degrees video, with incredible period-specific set-dressing, especially in Dennis's bedroom, which is filled with action figures and covered in Asteroids wallpaper. There was a bit of an issue with the rights to some of the toys, because of a couple of unrelated scenes that feature the older brother smoking weed, but ultimately it was hashed out.
Though it's billed as an interactive film, that's more in spirit than practice. I was told are a few extra bonus scenes, which you have to unlock by finding three different easter eggs. I didn't really know what I was looking for, and the filmmakers are mulling over making it easier to find them. I hope that they do, because if you find them all, you get a bonus scene with Jeff Goldblum as Miyubi's creator. His wisdom is always invaluable, and even more so in stereoscopic 360 degrees.
Still, it was impressive enough as a very immersive viewing experience that, crucially, had a compelling narrative. It isn't enough just to use cool technology, because viewers would rather just watch something fun on their iPhones.
The second VR film I saw could not have been more different than Miyubi, but it was perhaps even more immersive, despite being an impressionistic, lyrical animated experience. Dear Angelica, made by the Oculus Story Studio, is a 15-minute film that literally paints a picture of a young woman mourning her late movie star mother.
Voiced by Mae Whitman, the woman looks back on her mother's life, writing letters that recount both their experiences together and the fantastic adventures within her mom's movies. The project was made entirely in the Quill design application, which Oculus created specifically to make Dear Angelica possible. The trailer below doesn't really do it justice, which is the blessing and curse of virtual reality; you really have to experience it to understand it.
The scenes are painted right in front — and all around — you, and I found myself spinning around trying to keep up with the fleeting images. It was like floating in space — you're surrounded by negative dark space — giving the whole experience an out-of-body vibe. I only knew that I was still on Earth because the Oculus headset was tethered to a computer.
Given the pace at which the images are painted — mother and daughter taking road trips, going on jungle adventures, etc. — it's helpful that you can pause the film at any moment and take it all in. Even more impressive and useful is the ability to lean forward and inspect an image more closely, which made this VR experience feel like something entirely different than a movie.
Still, I wouldnt have wanted to look more closely if the story wasn't compelling, and that's where Dear Angelica and Miyubi succeed the most.