Let the Black and White 'Logan' Trailer Break Your Heart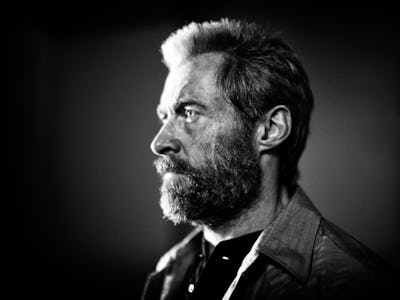 20th Century Fox
Earlier this year, Hugh Jackman took a final bow and walked away from his most iconic role in James Mangold's Logan. The film, which drew near-universal praise from fans and critics alike, will hit Blu-ray and Digital HD on May 23 with an amazing bonus feature: An entire black and white cut of the film, titled Logan Noir, inspired by the moody photos released on Instagram and Twitter. To promote the release, Mangold took to Twitter late Monday night and shared a new trailer of the black and white cut, still set to Johnny Cash's Nine Inch Nails cover of "Hurt," and it will just break your goddamn heart.
A neo-noir western featuring the former X-Man on one last ride, Wolverine (Jackman) and a depressingly old Xavier (Patrick Stewart) tear through the Southwest United States to get a mysterious young mutant named Laura (Dafne Keen) to safety. In the months leading up to the film's theatrical release from 20th Century Fox, the official social media accounts for Logan posted black and white, on-set photos with vague captions that were often just one word. The subtle marketing campaign worked, allowing fans to go into Logan with a vastly different image of what a "superhero movie" should be in their minds.
These photos, according to Mangold in an interview, helped inspire the director and the studio to pursue a black and white version of the film for the Blu-ray release. Another big studio action movie, 2015's Mad Max: Fury Road, also released a breathtaking black and white cut of the film that was dubbed the "Black and Chrome" Edition.
See the new trailer for the black-and-white Logan cut below.
Logan will be released on Blu-ray on May 23.