What Monday's Successful Launch Means for the Future of SpaceX
The company is rapidly approaching their goals for Mars travel.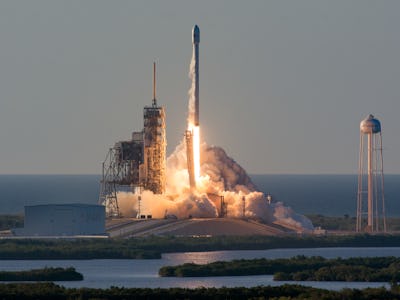 On Monday, SpaceX had yet another successful launch. The Falcon 9 that took off from the Kennedy Space Center in Florida carried a record-breaking 13,500-pound satellite for Inmarsat's Global Xpress network.
We didn't get a cool landing of the first-stage booster on a droneship Monday because the satellite was so heavy. In fact, it was the heaviest load a Falcon 9 has ever taken to geostationary orbit, about 22,000 miles above Earth's surface. There simply wasn't enough propellant left after the launch for the first stage booster to return to Earth.
Even without a landing, the launch was spectacular.
SpaceX's next launch will be on June 1, when a Falcon 9 will take the eleventh Cargo Resupply Mission to the International Space Station. The rocket will deliver a Dragon capsule of 7,000 pounds of scientific equipment and supplies to crew members.
Beyond this mission, SpaceX is truly completing its goal of launching every two to three weeks, with an expected nine launches by August. Getting a routine schedule down is the first step in ensuring that SpaceX can colonize Mars properly with a safe and reliable transportation system that can deliver cargo and humans. Elon Musk has already named it the Interplanetary Transport System.
It was also recently announced that SpaceX will be unveiling a new version of the Falcon 9, called the Block 5. The Block 5 will be the first rocket that is capable of a complete turnaround and re-flight in 24 hours. This new rocket is also in line with Musk's goals for the Interplanetary Transport System because it allows for frequent, inexpensive, and efficient travel. Musk's goal is for a ticket to Mars to be about $100,000 per person.
The Block 5 will inspire the mechanics for the Falcon Heavy, the most powerful operational rocket in the world. This behemoth will carry 119,000 pounds of cargo into orbit, about ten times more than the typical load a Falcon 9 takes to the International Space Station. The Falcon Heavy is expected to have its debut launch in late summer or early fall of this year.
But, beyond the Falcon Heavy, is something even more grand. The BFR, or Big Fucking Rocket. This rocket will be about the height of a skyscraper at 400 feet tall. It will be able to generate four times the thrust of the Saturn V, Musk said during a recent TED talk. Musk says the BFR will offer "the thrust equivalent of 120 747s with all engines blazing." This ship will be a colonizing vessel, capable of carrying a small population of humans and everything they will need to survive on the red planet.
The BFR is truly the last step before Mars travel, which doesn't have a time stamp just yet. But, Elon Musk is determined to get there in the next decade. Earlier this month, it was announced that SpaceX would be sending two Dragon capsules to Mars in 2020 to collect data. This will give them double the chance of landing successfully on the planet, which is about 34 million miles away. At the pace SpaceX is going, Mars is getting less and less difficult to fathom. Now, the only question that remains is when will we be able to buy our tickets?