'Power Rangers' Honors Bulk and Skull's Pie Faced Legacy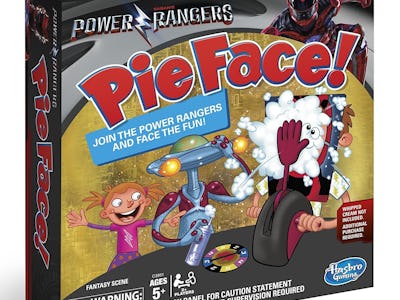 Twitter.com/Shadowpiper
So, the Power Rangers, along with toy maker Hasbro, are releasing a board game in which you and your friends can pie each other in the face. It's something only Bulk and Skull could come up with, and you have to see it for yourself.
The game is actually just a Power Rangers variant (based on the new movie) of Hasbro's aptly-titled Pie Face Game. It's a board game that essentially plays like Russian Roulette but with pieing your friends in the face. Laurel and Hardy would be proud.
Playing Hasbro's Pie Face Game is simple. Players gather around a table and spin an arrow that decides who gets pied and who doesn't. And apparently, it's quite the hoot, based on its enthusiastic reviews and 4.4 rating on Amazon. (The pies, which are actually just dollops of whipped cream, are not included.)
The Power Rangers version features a Mighty Morphin frame where players position their face. Hasbro's official video, shared on the brand's Facebook page, shows it works great with those in-store Power Rangers Halloween masks, but they aren't included because those are manufactured by Bandai.
Maybe we're overthinking this. As gritty and grim as Power Rangers was, it's still based off an insanely goofy Saturday morning TV show. So, why shouldn't Power Rangers fans hang out and just pie each other in the face?
Check out the video of Hasbro employees playing it below.