Here's What Mark Green Said About LGBT and Other Groups
Trump's second pick for Army secretary has withdrawn due to controversy over past statements.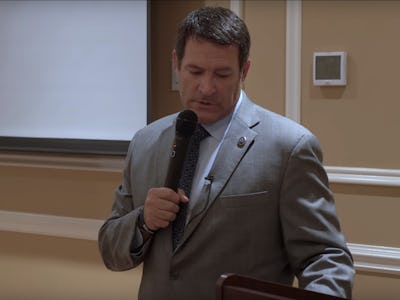 YouTube
Mark Green, President Donald Trump's pick for Army secretary, has withdrawn his nomination for the position amid widespread controversy over his various controversial statements on religion and the LGBT community.
Green, a former physician and U.S. Army veteran, is a Tennessee state senator and a member of the Republican Party. He was Trump's second choice for Army secretary, announced after his first pick, businessman Vincent Viola, withdrew his nomination after having issues with divestment procedures.
Green was one of the few Trump cabinet nominees yet to receive a hearing in the Senate, due in large part to his later addition to the nomination docket. He said in a statement that he was honored at the support his nomination had received from the Trump administration, naming Defense Secretary Mattis in particular. But, the statement went on to say, "to meet these challenges, there should be no distractions. And unfortunately due to false and misleading attacks against me, this nomination has become a distraction."
The "distraction" to which Green is referring was a widespread public outcry over past statements he has made.
Green's Comments on LGBT People
In 2013, Green criticized then-President Obama for supporting what he called "transvestites in uniform" in response to Obama's advocacy for LGBT service members.
"Mr. Obama supports transvestites in uniform but you can not have a bible on your desk, saying it disrupts good order in the military," wrote Green in a Facebook post.
Green's Comments on Transgender People
Along similar lines, Green has also said that psychiatrists call "transgender a disease" and hinted that Tennessee should defy the Supreme Court and block same-sex marriages.
Green's Comments on Evolution
Green says he is a religious man — the source of his social conservatism. His religious beliefs have also led him to call evolution a "bad argument," going on to elaborate that he believes in Biblical Creationism.
Green went on to say in his statement that "tragically, my life of public service and Christian beliefs have been mischaracterized and attacked by a few on the other side of the aisle for political gain." He insists that "these fake attacks have no bearing on the needs of the Army or my qualifications to serve," but is nevertheless bowing out, leading liberals on social media to celebrate.
In another Facebook post on April 25, Green accused the "liberal left" of spinning his words. He attempted to defend himself, writing, "I believe that every American has a right to defend their country," although it doesn't seem to have been enough to quell the controversy.
President Trump has yet to announce a nominee to take Green's place.