'Guardians of the Galaxy Vol. 2' Has a Really Fun, Uh, Cameo
Jeff Goldblum makes an early appearance as the Grandmaster.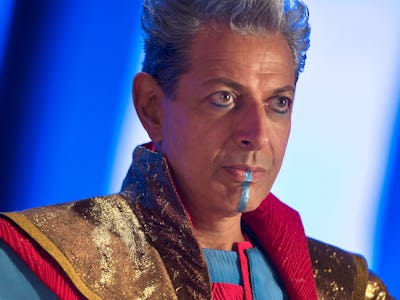 Entertainment Weekly, Marvel Entertainment
If you hadn't heard by now, Marvel's Guardians of the Galaxy Vol. 2 is a serious party. James Gunn's sequel to his 2014 sci-fi masterpiece is chock full of cool, surprising cameos from individuals previously outside of the Marvel Cinematic Universe, like Michelle Yeoh and even Miley Cyrus. But one blink-and-you-miss-it cameo is a genuine delight, even if it technically doesn't happen in the film. And, it's someone you'll be seeing again very soon, in Thor: Ragnarok this November.
Mild spoilers below.
In Thor: Ragnarok, the third movie in the Thor series (but 17th in the Mavel franchise), Jeff Goldblum plays an Elder of the Universe known as the Grandmaster. Goldblum's Grandmaster — who is obsessed with games and chance — rules a galactic gladiator arena in which Chris Hemsworth's Thor will clash with a friend from work: the Hulk (Mark Ruffalo).
But before the Grandmaster pits friends against each other, he makes an appearance in Guardians of the Galaxy Vol. 2 in the film's credits dancing along to the film's vibrant soundtrack. Goldblum and Cheap Trick's "Surrender" are truly a match made in the Nine Realms.
In any case, Goldblum's cameo is a fun nod to the near future of the MCU. Whether or not it's in-character or not (he appears in full Grandmaster regalia, but probably as just an outtake), he joins other characters from Vol. 2, like Gamora and even Baby Groot (voiced none other than Vin Diesel) in shaking their groove thing, all while the hard-working people behind the scenes get their due.
Marvel's Guardians of the Galaxy Vol. 2 is out now in theaters.