New 'Dunkirk' Trailer Introduces WWII's Unsung Civilian Heroes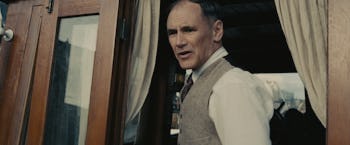 Collider
The latest trailer for Christopher Nolan's upcoming World War II action-drama-thriller Dunkirk introduces viewers to the film's heroes: regular people in boats.
When 400,000 allied soldiers from Belgium, the British Empire, Canada, and France are trapped on a beach in the French town of Dunkirk, held down by enemy fire and unable to get home, civilians jump to the rescue. The British send in civilian boats, known today as the "little ships of Dunkirk," much to the disbelief of the soldiers and their commanders.
It seems Mark Rylance (Bridge of Spies, The Other Boleyn Girl) will play a stalwart captain in a very little ship. As the Germans sink more Naval ships, and soldiers start to lose hope, the civilian boats pick up stragglers and continue toward Dunkirk.
"You're weekend sailors, not the bloody Navy," a character, played by Cillian Murphy (Inception, Peaky Blinders), tells Rylance upon being rescued and learning they're still heading to Dunkirk to help the other men. "You should be at home!"
Aside from a hysterical Murphy, the trailer also features Tom Hardy (Inception, Mad Max: Fury Road) as the fighter pilot Farrier, and Harry Styles (former member of the pop boy band One Direction) as a sad, young British soldier, Alex, who just can't seem to stay away from the water.
Dunkirk premieres in theaters July 21.