'Dunkirk' Trailer Shows a Brutal Struggle Against Nazi Warplanes
Every good auteur like Christopher Nolan needs a war movie.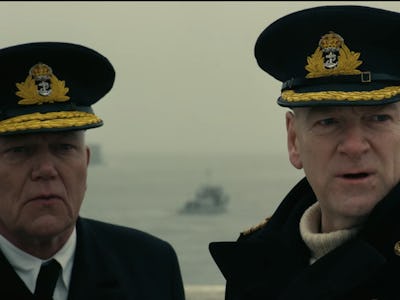 YouTube
The minimalist teaser trailer for filmmaker Christopher Nolan's newest film, the World War II epic Dunkirk, dropped in August and offered only few glimpses at the gray, wet war drama the director behind The Dark Knight and Interstellar had lined up.
On Wednesday, the full trailer was released. It's a jarring yet beautiful portrayal of one of the most important unsung moments in early 20th century history, the Battle of Dunkirk, which took place on the beaches of Northern France, right across the English Channel from the United Kingdom.
When a huge group of mostly British soldiers were surrounded by an increasing number of Nazi forces, they were forced to escape via a small beach in the French seaside town of Dunkirk.
The ensemble cast features actors Mark Rylance, Kenneth Branagh, and even One Direction singer Harry Styles who all join Nolan regulars like Cillian Murphy and Tom Hardy to tell the story of the Battle of Dunkirk, the Allied retreat in Nazi-occupied France that took place in mid-1940.
The movie looks incredible (Nolan's Interstellar cinematographer Hoyte Van Hoytema helped out on this movie too), but it'll be fascinating to see what the cult of Christopher Nolan thinks about this one. Unlike most filmmakers, Nolan has a huge fanbase that has examined his every move since his Batman trilogy redefined the comic book movie genre.
Something tells us a grim WWII tale won't make the same amount of bank as that of even a heist movie about people who steal ideas from dreams like Inception.
But Dunkirk looks to be Nolan's Titanic. Like James Cameron, Nolan was previously known for big budget sci-fi spectacles, or elevating typically elementary material like a comic book movie into the realm of serious cinema. Every good auteur needs a war movie, or at least a big dramatic movie that recontextualizes real-world events, and Dunkirk is definitely going to be that for Nolan
The movie is scheduled to open in theaters on July 21, 2017.