It's Looking Like Harry Styles Will Drown in 'Dunkirk'
The former One Direction singer figured he would try out acting in a Christopher Nolan movie.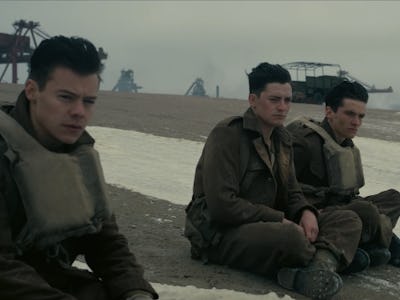 YouTube
Blockbuster auteur Christopher Nolan usually assembles a legit ensemble of actors in each of his feature film projects, from The Dark Knight trilogy to Inception. The same goes for his latest film Dunkirk, the World War II epic featuring typically intense Nolan regulars like Cillian Murphy and Tom Hardy. But this new film also features some highly decorated newcomers to his normal company, like Academy Award winner Mark Rylance, Academy Award nominee Kenneth Branagh, and former One Direction pretty boy and walking hairdo, Harry Styles.
Obviously, one of those is not like the others.
Yes, it's true, the guy who sang hits like "What Makes You Beautiful" and "Story of My Life" in a boyband is trying out acting, and Dunkirk marks his big-screen debut — that is if you don't count the 2013 concert film One Direction: This Is Us or a cameo appearance in Absolutely Fabulous: The Movie as his first time out.
Check out those few precious milliseconds of a well-coiffed 1940s Harry in the trailer below:
Not much is known about his character, but he's listed as someone named Tommy" on IMDd, and by the looks of the trailer his performance involves a lot of sitting on beaches and ships looking worried. Also, he might drown.
Dunkirk is a bit of a wildcard for Nolan. Not only will a somber but harrowing war film offer up something new for his typically geek-friendly audience, so too will it usher in the throngs of adoring One Direction fans looking to catch a glimpse at what Harry is up to now that the band is on indefinite hiatus. For what it's worth, his co-star Cillian Murphy says he's the real deal.
"Chris Nolan knows talent and would have cast Harry for a reason," Murphy told the Radio Times. "There's a long history of musicians moving over into acting and I come from that world myself, so I'm sure he'll be terrific in the role. I trust Chris implicitly in that."
Look at this intensity! It's almost as if he knows fellow former One Direction-er Zayn Malik has had a better solo career than him so far.
Harry's Big Movie is scheduled to hit theaters on July 21, 2017.