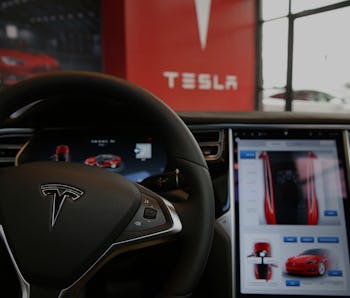 Innovation
Tesla Will Massively Expand Its Physical Locations Next Year
Getty Images / Spencer Platt
Tesla's Q1 2017 earnings call and paired statement on Wednesday revealed that its first quarter vehicle production has increased 64% over the last year. That significant hike requires expanded infrastructure across the globe to help Tesla owners more easily buy and repair their vehicles, so the company has outlined plans to grow its worldwide facilities by about 30% this year.
The earnings statement explained that Tesla will add 100 locations over the next year, including its first stores in Dubai and South Korea. The expansion will include new delivery, retail, and service facilities. The first ever Tesla-owned auto body repair shop will come later in 2017, as well as an increase in the "existing network of third-party Tesla certified body shops."
Tesla also hopes to increase the size of its facilities; its service locations will increasingly have more service bays, for example. The company has already been testing out large delivery hubs in San Francisco, Los Angeles, Beijing, and Hong Kong (see below). The earnings statement said that such hubs "create an exciting reception for new customers and support much higher delivery levels, so we plan to expand this customer experience to more cities."
Tesla indicated that the high profile launch of the forthcoming Model 3 is a major incentive for this facilities expansion. In the earnings statement, the company noted that it hopes to start producing 10,000 Model 3 vehicles per week sometime in 2018; a stepped-up infrastructure game is certainly necessary to accommodate that.
Get ready, because a Tesla facility might just be coming soon to a location near you.