Tim Cook: Apple Watch is as Technically Complex as the iPhone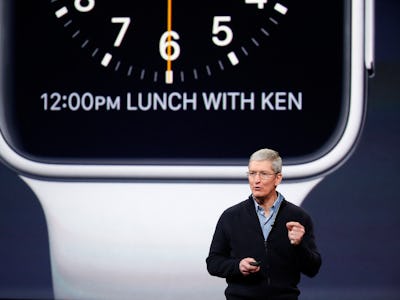 Getty Images / Stephen Lam
Apple's bread and butter consists of its iPhones, iPads, and array of Mac computers. That won't change any time soon. Yet, the company looks to be coming into its own as a powerhouse for wearables, device accessories, and smaller electronics. Much of that is thanks to the success of the Apple Watch, which, as CEO Tim Cook said during the company's second quarter earnings call on Tuesday, remains the best-selling smartwatch ever.
It ought to be. Cook later explained that the Apple Watch, from an engineering point of view, has a comparable complexity to the iPhone, despite being much smaller and retaining less functionality. The intricacies in its design and construction give the watch the ability to do so much and run so many different kind of apps making it "similar to an iPhone."
"The watch area is really hard," Cook said during the call. But he emphasized the company continues to be "very committed to it," even if it does not make an immediate monetary impact and flash that a new iPhone or new MacBook would. The Watch's units sold more than doubled in six of Apple's top 10 markets around the world.
In a broader scope, the Watch is really just one part of a triumvirate of products that is quickly turning Apple into a known brand for smaller devices. Cook says that Apple Watch, AirPods, and Beats suite of headphones combined have generated enough revenue to compete as a singular Fortune 500 company.
"That's pretty fast, to come that far," said Cook, "We feel really great about it."
It seems to be a pretty nice surprise, and the company isn't quite sure how to take that success into a concerted direction. Apple could create a robust new division that's focused on developing high-quality wearables and accessories, or choose instead to simply continue to push the AirPods and Beats headphones into a separate, smaller focus while continuing to put bigger resources into keeping the Apple Watch as a keystone product.
Still, given how amazingly successful the company's second quarter has been, Apple probably doesn't need to rush into anything soon.