How to Cosplay Star-Lord for Comic Con Season
Gear up for convention season as the MCU's rebel outlaw, Star-Lord, from 'Guardians of the Galaxy.'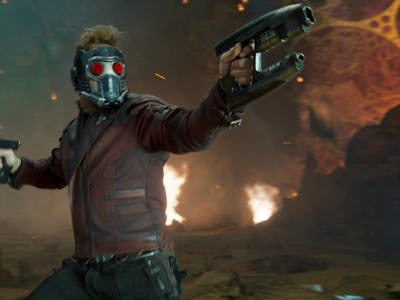 Marvel Entertainment
Marvel's Guardians of the Galaxy Vol. 2 is upon us and, with it, the return of everyone's favorite A-holes. Leading this team of misfit losers once again is the '80s-obsessed Peter Quill of Earth, also known across the cosmos as Star-Lord. Like Han Solo before him, the romantic outlaw armed with space blasters is once again a surefire cosplay and/or Halloween hit. For those interested in suiting up as Chris Pratt's Marvel hero — for whatever occasion — here is a handy costume breakdown for Star-Lord from Guardians of the Galaxy Vol. 2.
The Basics
Star-Lord can be stripped down to a few key elements: the jacket, the guns, the helmet, and the boots. (Good luck on the Walkman.) Everything else is extra. If you ever need a clear guide, the Star-Lord toy from the Hot Toys line is a solid, movie-accurate map.
It's worth noting that Star-Lord has changed his look a little bit from the first movie. Throughout most of Vol. 2, Star-Lord wears a different maroon jacket than the one he wore during the big climactic fight at Xandar, when he held the Power Stone and used it against Ronan. He also wears tighter pants, and he's ditched those ankle rockets on his boots.
So, where to begin? First, the jacket.
The Jacket
A number of online retailers sell different versions of Star-Lord's jacket. If making the jacket from scratch isn't an option, check out the following, all of which vary in price.
Film Jackets: At $130, plus free shipping, Film Jackets' version of Star-Lord's jacket isn't a bad choice at all, though it does get points off for screen inaccuracy.
Fan Jackets: Just a few bucks more than Film Jackets, Fan Jackets is just slightly more accurate. But not by much.
Amazon: At $189, this jacket from the generically-named Premium Leather Garments might be the most screen-accurate version of Star-Lord's jacket anywhere. However, there are no customer reviews, and the generic storefront name can be cause for some alarm.
The Helmet
Thankfully, Chris Pratt spends a lot of time onscreen without his helmet, so cosplayers are off the hook from wearing one all day, if at all. But for completionists, it's a crucial piece. Here are your options:
DIY: Unlike the jacket, which requires sewing and raw materials, Star-Lord's helmet can be made after a trip to the department store and some old fashioned elbow grease. Peruse YouTube for the guide that suits you.
Etsy: Enterprising craftspeople have taken to Etsy to sell homemade replicas of Star-Lord's helmet. KirinProps sells a finished helmet for $300 that can be customized to the shape of your head, while SoloRobotoIndustries makes an unfinished kit you can paint yourself for $260. There's also one from TheGeekArmory ($130) and GearProps ($150-$260, depending on the kit).
Hasbro: If you're patient, Hasbro is releasing a replica Star-Lord helmet as part of its cosplay-focused Marvel Legends line. It's a 1:1 wearable helmet with electronics and Bluetooth, meaning you can blast "Hooked on a Feeling" right through the helmet. Best of all, it'll be within the neighborhood of $99 upon its release. Unfortunately, it's not hitting stores until this fall, so you'll have to miss out on the summer convention season.
The Pants
It's nigh impossible to find super accurate Star-Lord pants that are also comfortable. Avoid buying a whole costume set on eBay (which are also prone to tearing easily) and settle for sturdy motorcycle pants, which can be bought on Amazon. Find one that suits you, and try to get one in dark brown. And while you're at it, snatch up one of Star-Lord's unique belt buckles on Etsy.
The Boots
Because this one is harder to pull off than previous pieces, cheating here is acceptable. In Vol. 2, Chris Pratt wears long shin-length boots, clearly built to stomp around the galaxy with. He's also ditched his ankle rockets, which he used a few times to evade capture. Finding accurate versions of his Vol. 2 boots are a fool's errand, so buying approximations online or in military surplus stores, or even buying pieces based on his Vol. 1 boots are allowed.
CosplayHouse: For $136, CosplayHouse's Star-Lord boots (with the ankle rockets) are probably the most accurate. The real cost is waiting 4-6 weeks, since Cosplay House custom makes them to fit your size. They come in two pieces: boots and boot covers. Should the boots fall apart, which they do eventually, you're free to use the boot covers to layer on top of another pair.
The Guns
Chris Pratt uses the same guns as he did in the first movie. There are a few options you can do to arm yourself like Star-Lord would.
DIY: Like the helmet, crafty cosplayers have managed to build their own guns. Look for guides on cosplay forums or YouTube to build your own.
Nerf: Back in 2014, for the first Guardians of the Galaxy, Nerf released a "Star-Lord Quad Blaster," which was a fully-functioning Nerf gun modeled after Star-Lord's blasters. And aside from the toyish paint job, the gun was super accurate in terms of size and weight. Consequently, these toys have become hot cosplay items with a high after-market value. Loose versions of them fetch anywhere between $50 to $100 on eBay. YouTube tutorials show you how to give them a realistic paint job, so if you're willing to bite the bullet, hunt down eBay or buy finished models on Etsy.
Rubie's Costume: As a last resort, you can buy a blaster from Rubie's for less than $20 on Amazon or at any Halloween store in the offseason. They're in dire need of a paint job, though.
The Shirt
In Vol. 2, Peter Quill wears a grayish-teal, blue long-sleeve t-shirt with alien writing. There are a few places to scoop up one of these.
Film Jackets: To compliment their jackets, Film Jackets has an affordable Star-Lord shirt priced at just $20. And it's long-sleeve, so it's more accurate than other options you'll find online.
Hot Topic: For a limited time, Hot Topic is selling an officially-licensed replica of Star-Lord's t-shirt in both male and female cuts. It's not too accurate, however; Star-Lord's shirt is a long-sleeve of thick material, while Hot Topic's version is short-sleeved and made of lighter material. But for about $16, or slightly more, you can't beat the genuine article.
Marvel's Guardians of the Galaxy Vol. 2 hits theaters on May 5.