Before Apple's Q2 2017 Earnings Call, 5 Tech Questions
Can the company excite fans once again?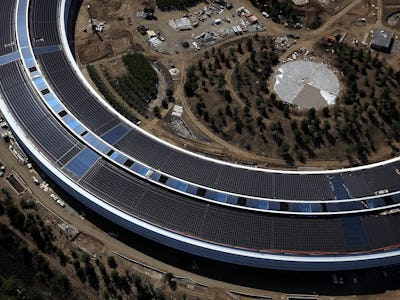 Getty Images / Justin Sullivan
Apple is set to reveal its second quarter earnings on Tuesday after markets close, and investors have some big questions about the company's future direction. While the iPhone and iPad set the world alight last decade, the Apple Watch and Apple TV have had less of an era-defining gravitas to them.
Could that all be set to change? When CEO Tim Cook sits down for the conference call after earnings, analysts will want to know what the company's long-term goals are. Will we one day drive around in Apple cars, or will Apple introduce a revolutionary new iPhone soon? Here are five big questions that need answers.
Is the MacBook Touch Bar the Future?
The new MacBook Pro, released in October, offers a thin touchscreen in place of the function row on the keyboard. But reviews have been lukewarm, and a Bloomberg report threw into question the feature's development. Gartner claims the Mac has been growing in a PC industry otherwise declining, but tepid sales of the new MacBook could raise eyebrows.
When Will We See the iPhone 8?
Apple's iPhone 8 is expected to be an impressive device that will persuade a lot of long-time owners to upgrade. If it launches on time, that is: Deutsche Bank has suggested the phone may not launch this year. Apple may drop hints about when we can expect this upgrade.
"The release of the iPhone 6 and 6 plus has been one of Apple's most successful releases of the last few years, and the iPhone 8 is expected to be the next device these owners will covet," said Clement Thibault, Investing.com senior analyst.
What's Happening with the Autonomous Car?
A Lexus RX450h SUV was spotted outside of Apple's headquarters last week, complete with cameras and sensors. That led to speculation that the company is still planning to launch its own self-driving technology at some point. The company is listed on the California DMV website as one of the companies cleared to test autonomous cars on the state's roads, but it's unclear whether the company is planning a product or exploring the possibilities. More may be revealed on the call about Apple's interest in this area.
Does Apple Have Any Augmented Reality Plans?
CEO Tim Cook has said before that he thinks augmented reality holds promise, and a recent report suggested Apple is considering bringing some A.R.-powered features to the iPhone, like Snapchat-style filters for the camera.
"It will be particularly interesting to see how Apple combines new technologies like A.R., facial and image recognition and sensors to let consumers sense the world around them," Forrester analyst Thomas Husson told CNBC.
Will Apple Merge with Another Tech Giant?
It's no secret that Apple has a large cash pile, and it could spend some of it by buying smaller companies working on innovative projects. On the other hand, it could choose to go all-out and buy a corporate giant. One of the last major deals the company made was to buy Beats for $3 billion in 2014, which led to the Apple Music streaming service.
"To do a mega deal, like [buying] Disney, certainly getting the cash back in the U.S. would be a nice positive," Amit Daryanani, an analyst at RBC Capital Markets, told CNBC.