The United States Is Only the Third-Best Country at 'Overwatch'
We'd take home the bronze if 'Overwatch' were an Olympic sport.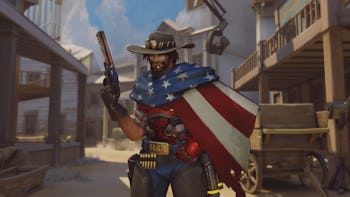 As part of the Overwatch World Cup, Blizzard has announced the top 32 countries in the world that excel at the beloved first-person shooter, and it looks like the U.S. only managed to come in third.
These rankings were produced through the efforts of players across the globe who participated in Phase 1 of the World Cup, which aggregated the Competitive Mode skills rankings of every player in the world, eventually taking the average ranking out of each nation's top 100 players to come up with the final results.
23 of the top 32 countries fall into the "Grandmaster" tier (at 4000), which is the highest achievable competitive ranking. The top three — China, South Korea, and the United States — are somewhat close to each other, with only 30 to 50 points differences (an individual player's score can gain or drop as much in only a few matches). All three are fairly deep into Grandmaster territory. But the U.S. being ahead of Sweden by almost 170 points is a landslide victory. Overwatch players can see the top 32 rankings on the World Cup website, but for everyone else, here are the top five:
Now, in Phase 2, "players and viewers vote on their region's representatives to form each region's Competition Committee, which is responsible for selecting and recommending to Blizzard the strongest team from that region." Voting closes the night of Thursday, May 4 at midnight. That will lead to an online qualifier, and then to a summer stage competition, and finally to playoffs in November. If this all sounds very formal, serious, and intense, that's because it totally is. The most talented players in the world are coming together to defend their nation's honor for a chance at the title.
Last year, South Korea took home the World Cup, but perhaps the United States will pull through in 2017. In the meantime, be sure to vote for your favorite players.