Young Thug's Releasing a New Album, Produced by Drake, This Week
Called 'E.B.B.T.G.,' or 'Easy Breezy Beautiful Thugger Girls.'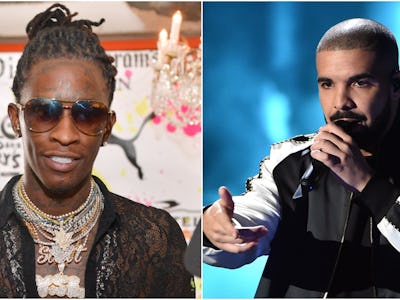 Getty Images
Young Thug doesn't half-ass things. The Atlanta rapper's last album, JEFFREY, was a sonically stellar record matched by the bonkers cover that featured Thugger himself adorned in a baby-blue dress as if he were a Mortal Combat character. He's looking to one-up that insanity with a new album to be released this week: a "singing" album executive produced by Drake. It's called — wait for it — E.B.B.T.G. or Easy Breezy Beautiful Thugger Girls.
Young Thug casually provided all these details in a burst of tweets on Wednesday night, as he is wont to do.
The new album would be Drake's biggest project since releasing his latest album (or playlist?), More Life. If E.B.B.T.G. is indeed supposed to be a "singing album," the record would most certainly take cues from the Toronto rapper's seminal sophomore effort, Take Care, which showed Drake dig into a more moody, R&B-inspired sound.
On April 21, Young Thug premiered the video for his new single, "All The Time," which may appear on the new album. If this is the sound of Young Thug's singing, his acolytes shouldn't worry about whether he's losing his weird AF edge.