How to Stream Drake's New Album Featuring Kanye West, 'More Life' 
Technically, Drizzy's calling it a "playlist," not an album, but we all know what we're hearing.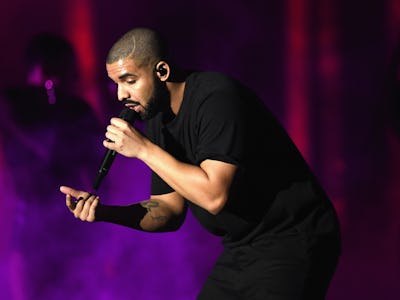 Getty Images / Kevin Winter
Drake released a sprawling, 22-track album featuring major artists like Kanye West and Young Thug over the weekend titled More Life. Except, it's ~technically~ not an album, according to Drizzy. Whatever it is, here's what you need to know and a listing of all the ways you can stream it right now.
Drizzy premiered More Life on his Beats 1 show, OVO Sound Radio, on Friday night. Although it's now streaming on all the major services, that original release method has a lot to do with why Drake isn't calling the project an "album" or even a "mixtape," but a "playlist." While speaking with Pitchfork, the rapper said he wanted More Life to feel like an episode of the show with the same flow and everything, "but every song is a new Drake song."
Which, like, okay, Drake. We can call it a playlist, but a 22-track collection of all-new songs sounds a lot like the definition of what an album is. What really matters, aside from the semantics, is the music. More Life features some of the biggest names in music right now. "Glow" is a slow, uncomplicated track that boasts Kanye West's instantly recognizable vocals (Kanye, by the way, is maybe releasing a surprise album today). "Sacrifices" is a hypnotic, cascading song featuring 2 Chainz and Young Thug, the latter of which also appears on the penultimate track, "Ice Melts." PARTYNEXTDOOR, Sampha, Skepta, and a few other artists also make appearances.
More Life is streaming on Spotify and, if you have it, Tidal. It's also available to download on Apple Music.