Rumored Kanye West Surprise NASA-Themed Project Is a Hoax, Label Says
A mysterious, unconfirmed website says something is coming out on Monday.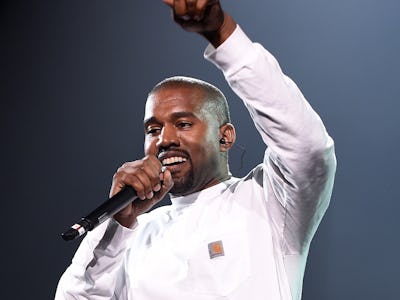 Getty Images / Dimitrios Kambouris
Kanye West fans got worked up on Wednesday night after a mysterious package and website suggested that Yeezy was going to release a new NASA-themed project of some sort on Monday, March 20. His label, Def Jam, denies that this is the case, calling the whole thing a hoax, but this is all very strange. Here's what we know:
On March 15, MTV News received a package at their New York office. Inside the box was a smaller box with a logo for NASA's Jet Propulsion Laboratory that the agency stopped using in 1992. Inside of that box was a faux white credit card with "Kanye West," "772233688," "NASA," "PROJECT-10," and "8/10" written on it. The box also included a pebble in a plastic case and a VHS tape filled with two hours of static.
Googling the number takes you to 772233688.com, a sparse website that features the same video, some of the same phrases from the card, and the date March 20.
The package's postmark reveals it was sent from Atlanta. The return address, though, is to a "Max Peck." That name was an alias used by NASA astronauts on top-secret assignments, and the given return address for Mr. Peck is, in fact, the JPL at the California Institute of Technology.
This is all very intriguing. If you count Watch the Throne and Cruel Summer, a new release would be Kanye's tenth album — perhaps that's what "PROJECT-10" could stand for? Yeezy has also adopted a bit of a VHS aesthetic on social media recently, and 20-year-old filmmaker Julian Klincewicz has been following him around for a while wielding what onlookers say is a VHS camera.
There's no proof, though, that this box or website have anything to do with 'Ye or NASA. When MTV reached out to NASA, they said it wasn't them, and Def Jam cast doubt on the evidence as well. Originally, the label told MTV that the box "sounds really weird and suspiciously like a hoax" but later followed up to give a firmer denial.
It wouldn't be all that crazy for Kanye to do something totally unexpected and possibly off the books. That said, it would also be a pretty amazing promotional strategy for some random person to mail MTV News a box of junk with Kanye's name on it in order to get a ton of free publicity from them and other news outlets, including this one.
Kanye himself hasn't said anything about the project. We'll probably figure out if we've been duped on Monday, so stay tuned. In the meantime, though, here's the video for the 2009 song "N.A.S.A. 'Gifted'" by the L.A. musical group N.A.S.A. featuring Yeezy and a couple other artists.