NASA JPL Shares Haunting Video About Juno's Mission to Jupiter
NASA's Jet Propulsion Laboratory shared a new video about the first test its Juno spacecraft will face on the way to Jupiter.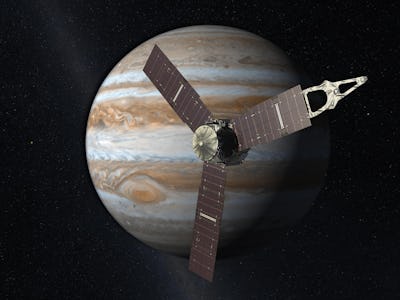 NASA JPL
This past weekend, NASA's Jet Propulsion Laboratory confirmed that its Juno spacecraft will arrive at the planet Jupiter just weeks away on July 4th. After kicking off a 35-minute burn of its main engine, Juno will slow down by about 1,200 mph (542 meters per second) so that it can get caught in the massive gas planet's orbit. From there, Juno will circle the planet 37 times over the course of 20 months, at an altitude of about 3,100 miles above Jupiter's clouds.
That's a pretty big mission to accomplish, and NASA JPL seems to be taking that seriously. Today on Twitter, the lab released something of an epic blockbuster-style trailer for the spacecraft's arrival, interview quotes interspersed with heavy trombone and drums.
Describing Jupiter as the "biggest and baddest" planet of them all, NASA scientists elaborate on Juno's mission once more, with holograms and workstations backing them in a fantastically sci-fi manner. As the mission unfolds, they reiterate the need to search for clues from the earliest days of the solar system, and just how high the stakes are when it comes to the arrival itself.
After introducing their intentions as the Jupiter Orbit Ascension — or, JOI — the video closes with a note of mystery. Anything can go wrong.
The video comes one day ahead of the spacecraft's expected arrival. Ahead of the arrival, a briefing will be held which will include notes and speeches from Juno mission program executive Diane Brown and several of her colleagues. The briefing (which takes place at 2 p.m. Eastern) will detail the next steps for the Juno spacecraft, reiterate the mission objective, and will take questions from the public on twitter using the hashtag #AskNASA. Make sure to read our summary on how to watch the arrival online here.