Young Thug Uses Genderfuck Ambiguity to Reinforce His Art
Whether or not it was his intention, Young Thug is becoming a boundary-breaking gender and sexuality spokesperson within the rap community.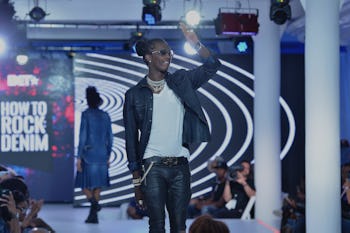 Getty Images/Noam Galai
When someone achieves enough fame, the more intimate details of their life—specifically sexual preferences and gender presentation—create noise among fans and media outlets, and Young Thug deserves recognition for using the confusion surrounding his identity to further his rap career.
Young Thug and his fiancée, Jerrika Karlae, recently gave an interview to VFiles in which the two elaborated on Thugger's androgynous public image. Perhaps the most notable part was when the rapper admitted he doesn't "care that much for sex" while discussing how he and Karlae refrained from having sex for nearly six months at the start of their relationship. "I never asked her to have sex. Never ever. Our first time doing grown stuff, she did it. She pulled me to the room and was like 'Come here,'" he said.
Based on Thugger's admission that he doesn't prioritize or even care that much about sex, perhaps calling him asexual makes more sense than the rumor that he's gay, although labeling him is ultimately harmful. Still, Karlae seized the opportunity to shut down that rumor: "On his everyday life and living there's nothing gay about Thug," she affirmed, going on to say that the gay rumor has actually bolstered the rapper's budding career. "I mean, good publicity or bad publicity, we got them watching, and I think that's the way Thug looks at it as well."
The candid interview with VFiles follows a series of gender-fucking stunts from Young Thug that have, deliberately or not, sought to dismantle our traditional perception of masculinity. Last year Thugger explained his preference for women's clothes, saying he's been buying tight pants since he was 12 because they fit him "like a rock star". Just last week he released his mixtape No, My Name Is Jeffery featuring the meme-inducing album art of Thugger dressed in a ruffled, opulent, light blue VFiles gown. You may be confused, but it seems like that's exactly what Thugger and Karlae want.
It's groundbreaking for any public figure to embrace a hazy sexual and gender identity, but to do this in rap is particularly momentous. Having sex with a lot of women and rapping about it explicitly is common in male rap, and while Thugger may also flex about this topic in his music, the identity he has embraced outside it disturbs the definition of black masculinity in rap and hip hop. Even more, Karlae's clear support of Thugger's lifestyle choices quashes the stereotype that women need a man's man with a voracious sexual appetite to feel affirmed in a relationship. Hell, she was the one who initiated the sex their first time.
Young Thug's VFiles interview also highlights the crucial distinction between sexuality and gender, which are often conflated in popular media. For example, the fact that Thugger was rumored to be gay after he admitted to wearing women's clothing demonstrates a misguided connection between the two. Young Thug's decision to wear women's clothes is a facet of his gender identity completely independent of his sexuality: his apparent asexuality is in no way influenced by or a result of his preference for women's clothing.
It may not have been the explicit goal of Young Thug and Jerrika Karlae to pack this interview with activism, but their nonchalant attitudes on these topics signal an approaching climate of gender and sexuality awareness that has the potential to shake things up in the entertainment sphere, particularly in rap and hip hop. Thugger's gender identity and sexual relationship with his fiancée may still be confusing to you, but that's because these topics are amorphous and flexible to an extent that makes some uncomfortable. All the same, though: for Thugger, your discomfort is his money.