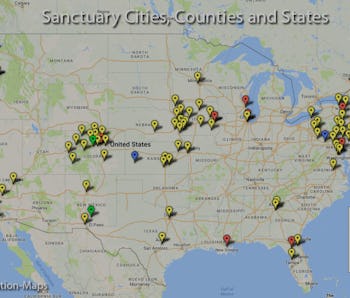 Culture
Why the White House is Railing Against These 'Sanctuary Cities'
Some cities are better than others for undocumented immigrants. 
Getty Images / John Moore
On Wednesday morning, President Donald Trump chose immigration as his Twitter topic of the day, expressing his frustration at the Ninth Circuit Court of Appeals for blocking his proposed legislation to eliminate funding "sanctuary cities."
"First the Ninth Circuit rules against the ban & now it hits again on sanctuary cities-both ridiculous rulings. See you in the Supreme Court!" Trump tweeted.
While the Ninth Circuit's refusal on Tuesday to reinstate Trump's ban on Muslim immigrants was well-publicized, the concept of "sanctuary cities" is less well-known.
What Defines a Sanctuary City?
Essentially, a sanctuary city is a local jurisdiction that has publicly stated that processing and deporting undocumented immigrants isn't a priority. Sanctuary cities can't directly defy federal legislation that mandates deporting illegal immigrants, but they can generally refuse to actively help federal forces, like Immigration and Customs Enforcement, known as ICE. To someone angry over immigration, this might seem detrimental to the city, but the leaders of sanctuary cities believe that making undocumented residents less afraid of local authorities will make them better citizens — more likely to report crimes, enroll their children in public schools, and utilize social services (for which immigrants pay state and local taxes out their paychecks).
According to the Center for Immigration Studies, a "nonpartisan, nonprofit" research group founded in 1985 and based in Washington, D.C., sanctuary cities, states, and counties in the United States break down like so: The entire states of California, Connecticut, New Mexico, and Colorado are sanctuary states. There are about 200 sanctuary jurisdictions if you count up states, counties, and cities.
There's no solid legal definition for a sanctuary city, and specific policies vary by jurisdiction. Many sanctuary cities are actually sanctuary counties, when the county-level government buys into sanctuary policies.
Sometimes, a city or county might set sanctuary city provisions into local law. In Boston, cops are bound by a local ordinance "from detaining anyone based on their immigration status unless they have a criminal warrant." Often, however, the sanctuary city designation plays out in a more informal way, like a de facto policy that the police don't ask too many questions about immigration status when booking someone for a minor crime. San Francisco, a prominent sanctuary city (and home of the Ninth Circuit Court of Appeals), told ICE back in 2007 that city cops wouldn't help the feds with raids on undocumented immigrants — if ICE wanted to prosecute someone in San Francisco, the city couldn't stop them, but it sure didn't have to help.
"Out of our very big country, with many choices, does everyone notice that both the "ban" case and now the "sanctuary" case is brought in the Ninth Circuit, which has a terrible record of being overturned (close to 80%)," Trump tweeted. "They used to call this "judge shopping!" Messy system."
But the Ninth Circuit's home in San Francisco is far from the only jurisdiction friendly to undocumented immigrants. You can see a full map of sanctuary cities in the U.S. online.