'Arrow,' 'The Flash,' and 'Supergirl' Finale Dates Revealed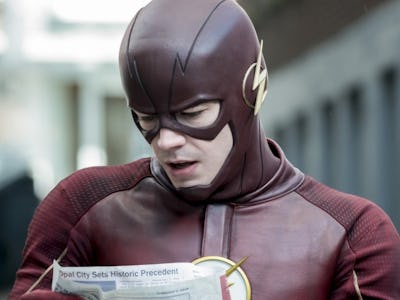 Warner Bros. Television
For fans of the Arrowverse, this mid-season hiatus has been brutal (how much longer can we wait before learning who Savitar really is?), but luckily The Flash, Arrow, and Supergirl are all coming back very, very soon. Sadly, they'll be going away shortly afterward, as The CW has revealed the season finale airdates for all three shows.
Supergirl's Season 2 finale will premiere on Monday, May 22. The Flash will air the last episode of its third season on Tuesday, May 23, and Arrow's fifth season will come to a close on Wednesday, May 24. All three shows begin at 8 p.m. Eastern. As a reminder, beginning on Monday, April 24, all three shows come back from hiatus, starting with Supergirl.
Based on trailers and interviews previewing the final stretches of all three shows' exciting seasons, it seems like there's going to be a lot of action packed into one month. Pretty much everybody is coming back to Arrow and Supergirl, while The Flash is dealing with a dark future and a mystery villain.
Legends of Tomorrow, the fourth Arrowverse show, already finished its sophomore season earlier this month.
The CW spilled the beans on some other spring finales as well. Riverdale airs on Thursday, May 11 at 9 p.m. Eastern, while Supernatural concludes the following Thursday, May 18 at 8 p.m. Eastern. iZombie, which just started its third season, won't wrap up until late June.