5 Questions 'iZombie' Needs to Answer in Season 3
One of The CW's most unique sitcoms has a lot to tackle in its third season.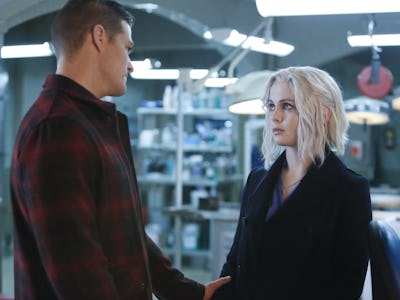 iZombie returned for a well-earned Season 3 on The CW this week, devoting most of its premiere to explication and re-connection with its viewers. There's even a charming sequence where Liv delivers a drink to each of her friends, explaining what they're all facing this season through her voice-over. Liv nails some of the questions the show now faces — who will Peyton choose, Ravi or Blaine? How will zombification affect Major differently than it does Liv? — but there are still unspoken questions lingering in the air.
We've compiled a short list of the most curious topics on iZombie, for those hoping to get back into one of The CW's most inventive shows.
Are Liv and Major the Show's OTP?
iZombie began with Liv and Major having already called off their engagement. Over the show's first two seasons, they began speaking again, started a sexual relationship, got back together, saw other people, and remained friends through Major's realization that Liv is a zombie. Now, they're embarking on a third season in which they're just friends; iZombie's showrunner, Rob Thomas, has confirmed that both characters have new love interests.
Will Blaine Recover From His Amnesia?
Blaine was iZombie's first villain, but he's changed (due to amnesia and his budding, weird friendship with Liv) and is now a chaotic neutral force on the show. Narratively, his amnesia was interesting in Season 2, and it allowed him to start a trouble-making romance with Peyton. Now that Season 3 has begun, the characters on iZombie — and the fans watching at home — are already weary of his doe-eyed innocence. Will we ever get our witty, diabolical jerk back?
How Will the Show Work Without a Big Bad?
Rob Thomas has said that Season 3 will not follow the actions of one central villain, which suggests the plot will revolve around Liv's friends and frenemies finding their place in the new, half-zombified world. Seasons 1 and 2 each had a central Big Bad villain, and a serial structure following Liv and Clive as they pursued a new murderer each week. Season 3's structure is still up in the air.
Will Major Ever Do Time as the Chaos Killer?
Season 3's premiere saw Major angrily reacting to harassment from the public suggesting that most haven't given up the idea that he's a serial killer. Of course, iZombie's audience knows Major wasn't exactly killing his string of victims, but in order for the world to find out the true nature of his "crimes," they'll have to first realize zombies are real.
How Long Can the Show Survive?
Everything hinges on Season 3, which is already grander in scale and more open to interpretation than the show's earlier seasons. The ratings for its premiere hit an all-time low, but then again, programs on The CW tend to live longer, despite middling viewer numbers, and sometimes (as is the case of Supergirl and Crazy Ex-Girlfriend) shows allowed to survive longer improve in quality.
iZombie airs Tuesdays at 9 p.m. on The CW.