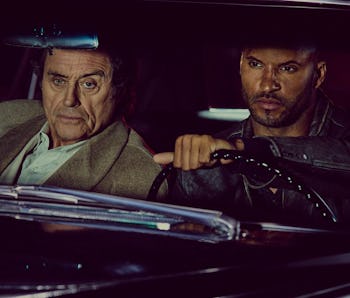 Entertainment
The Definitive, Most Detailed 'American Gods' Road Trip Map
Your map to following Shadow and Mr. Wednesday's misadventures.
Entertainment Weekly
The characters in Neil Gaiman's American Gods are fantastical and, often, larger-than-life, but the landscape is even more so. Mr. Wednesday's old Chevy, Betty, will eat up miles upon miles of highway in the first season of Starz's American Gods alone. Much like in Gaiman's novel, the series focuses not just on the dynamic cast of characters, but also the places in which those characters reside. The majority of American Gods takes place in the American Midwest and, if possible, the show is redefining Americana for the 21st century. We thought it would be a good idea to map the roads not-so-less traveled.
American Gods keeps a lot of the same imagery you'd expect from a cross-country television show, with Shadow Moon and Mr. Wednesday hitting up '50s-style motels and kicking up dust on gravel roads, the camera panning over expansive green fields and hills that tote the majesty of American soil. It's all very idealistic. But the show also features Shadow working his way mindlessly through a nameless, Walmart-esque store and literally being hanged from a tree. Rather than appearing as a seedy trucker, like in the book, Mad Sweeney is a new-age hipster in a Louisiana-themed bar in Indiana.
Check out Shadow and Wednesday's journey so far with interpretation and some super-sleuthing for each episode throughout the article.
Locations: Eagle Point, Indiana; New Lenox, Illinois; Ukrainian Village, Chicago, Illinois
"The Secret of Spoons" gives us a look at Shadow and Laura's house, a flat-faced, adorable suburban house in pale blue with no house number. A street sign is never shown in any of the scenes, but there is one hint as to where in Indiana they lived.
"Kosciusko County Coroner's Office" is on the label of Laura's personal effects. Kosciusko County is located in northern Indiana. Yes, it's a real place, but Eagle Point still does not exist anywhere inside the Kosciusko County borders. Someone please tell me where Eagle Point is. I need to know.
From the ever-shrouded Eagle Point, Shadow and Wednesday set out in Wednesday's car, Betty, along a vague American interstate from which Wednesday directed Shadow to turn off. They end up on an equally obscure gravel road, which also has zero signs to indicate where it might be.
The only thing that could possibly give up the location is this diner and the small street sign outside of it. The diner is called "Forgettable Diner," which isn't helpful and, frankly, rude on the part of the American Gods creators. They clearly don't want me to figure this out, as Forgettable Diner doesn't exist in Indiana or Illinois as far as I can tell (and as far as the internet will tell me). The street sign outside of it — when you zoom in really far and it becomes blurry — looks like it says "Stapleton Lane." That road doesn't exist in either state, but Stapleton Road is in New Lenox, Illinois, on a reasonable path for Shadow and Wednesday to take to Chicago.
So, we'll say they stopped in New Lenox for the time being.
Wednesday, after having Shadow grab some gifts while being harassed by Media (Gillian Anderson), directs Shadow to drive them to Chicago to visit some friends. Those friends are the three sisters, the "eldest" of which is Zorya Vechernyaya, and Czernobog, gods of Slavic origin. Traditional Slavic culture is geographically expansive, but the three countries with the largest populations are Russia, Poland, and Ukraine. In Chicago, the largest Slavic neighborhood is the Ukrainian Village, which, according to Wikipedia, is "on the near west side of Chicago. Its boundaries are Division Street to the north, Chicago Avenue to the south, Western Avenue to the west, and Damen Avenue to the east."
Locations: Oklahoma State Penitentiary; Ponca City, Oklahoma; St. Louis Lambert International Airport, Missouri; Shakamak State Park, Indiana; Orleans, Indiana; Eagle Point, Indiana
The plaque behind Shadow while the warden is telling him that Laura is dead, the correction officer's shoulder patch, and the prisoner transfer bus (labeled ODOC) all indicate that Shadow's locked up in a prison in Oklahoma at the beginning of the series.
According to the Oklahoma Department of Corrections' website, there are 24 correctional institutions and three private prisons in the state.
To figure out which prison Shadow is locked up in, you've got to listen to Low Key Lyesmith's ravings about the death penalty. The Oklahoma State Penitentiary in McAlester, Oklahoma, is the state's maximum security facility and houses its death row inmates, so it would make sense that the death penalty is on Low Key's mind.
For some reason, Shadow and the other prisoners are dropped off in Ponca City, Oklahoma, which is discernible from the sad shot of Shadow taking a cab to the airport because no one is there to meet him. The yellow sign off to the left of the shot reads "Lampton Welding Supply."
Ponca City is almost three hours from the State Penitentiary. From there, one of the closest airports is the Tulsa International Airport. There's no proof that Shadow took a plane from Tulsa, exactly, but it would make sense due to its proximity to Ponca City.
Shadow and Mr. Wednesday's plane is forced to land at the St. Louis Lambert International Airport. Then, Shadow rents a car and drives to Shakamak State Park in Indiana to let off a little steam (aka: scream at the universe).
After screaming, Shadow finds his way to Jack's Crocodile Bar, which isn't a real place. The town it's located in, Nottamun, Indiana, isn't a real place, either. It's actually an obscure reference to an old English folk song, "Nottamun Town," that grew popular in the Appalachian Region of the U.S. But Gaiman's novel does have a cashier telling Shadow that Jack's is "west on County Road N," so we'll go with that for now.
The closest County Road N to Shakamak State Park is in Orleans, Indiana — an appropriately named place for a croc and cajun-themed bar such as Jack's.
Jack's is a little difficult to figure out, but not nearly as difficult as Eagle Point, Indiana, where Shadow and Laura lived and where Laura is buried during the episode. Eagle Point is impossible.
Eagle Point is a completely fictional place, and the episode doesn't provide any context clues for us to really figure out where it could be. The motel that Mr. Wednesday is staying at, "Motel America," doesn't exist. The church where Laura's funeral is held is called "St. Monica's Catholic Church." There's St. Monica's in Indianapolis, but it looks nothing like the inside, nor the outside, of the church in American Gods.
American Gods airs on Sunday nights at 9 p.m. Eastern on Starz.
Correction 11/27/18: This article includes a detailed route from the Oklahoma State Penitentiary to the closest airport. This guide previously stated there is only one Lampton Welding Supply in Claremore, Oklahoma. The above photo of the yellow Lampton Welding Supply sign is located in Ponca City, Oklahoma, as observed by an Inverse reader.