Hyperloop One Testing Isn't Proceeding as Planned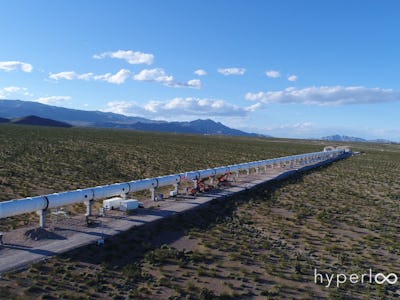 Photo via Hyperloop One
Despite being backed by investments of $160 million and supported with hype from interested parties that include President Donald Trump, Hyperloop One's testing plans are not going as well as they hoped. A series of delays has repeatedly pushed back the date of the tests, and the company has also decided to scale back the size of its prototype.
Since last year, we've been waiting for Hyperloop One's "Kitty Hawk" moment: the first full test of its designs and the first significant test in general for hyperloop, the transportation system designed to shoot travelers in pods through low-pressure tubes at up to 750 miles per hour. Originally this giant trial was supposed to occur before the end of 2016: a PowerPoint slide from a Hyperloop One presentation to government officials stated that the system would be "Full scale, Full Speed, Fully Operational in Q4 2016."
The test was later moved to March 31, but that day came and went; the new deadline is intended to be in May or June, though there's no official updated timetable yet, reports The Wall Street Journal.
These delays aren't the end of the world, but they certainly don't look good for an ambitious company that has been emphasizing the speediness of its agenda. Hyperloop One has some competition from Elon Musk and even former members from within its own ranks; it wants to be the first company to realize the dream of hyperloop, and that's how it sold itself to investors.
"We're not building an app," Hyperloop One president of engineering Josh Giegel told the Journal. "It takes more money and time and physical space to build what it is we are building."
It's not just delays: The length of the tube that will be tested has also been shortened. Originally the track was supposed to be about two miles long, but Hyperloop One has cut down that goal by 80 percent. The shortened length will prevent pods from reaching full speed, but Giegel says that testing at top speed isn't necessary. He explains that a shorter track will still help Hyperloop One learn about important aspects of the tube, including possible leakiness.
Hyperloop One did complete a successful propulsion test in May, though that only lasted five seconds. The next trial is coming — but it may not occur anytime soon.