Guillermo del Toro's Aquatic Horror Officially Moves Forward
Doug Jones, who plays Abe Sapien in 'Hellboy' and 'Hellboy II: The Golden Army,' will play a different aquatic creature in 'The Shape of Water.'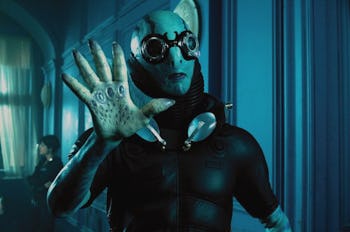 Columbia Pictures
Guillermo del Toro has had a mixed year, but his next film looks poised to turn it all around for the auteur. Several months ago, del Toro polled his Twitter followers to drum up excitement for Hellboy 3, though he was forced to post only weeks later that a third film in his superhero franchise would never arrive. Meanwhile, his animated Netflix series, Trollhunters, was picked up for more episodes.
del Toro's next foray into monsters, The Shape of Water, now has an official release date which nestles it right into the center of Oscar season.
The Shape of Water follows a janitor (Sally Hawkins) working in a government facility in 1963 who discovers and falls in love with an aquatic creature (Doug Jones). Jones, famous for playing physically demanding "creature" roles, has starred in Mimic, Hellboy, Hellboy II: The Golden Army, Pan's Labyrinth, Crimson Peak, and The Strain.
In January, Jones told Collider that Shape of Water was neither a genre film nor a science fiction story, but a Cold War drama despite the fact that he plays an imaginary creature (again). He also spoke candidly about hoping the film would be nominated for Oscars — it has since been dated for a typical "Oscar bait" weekend. "It is artfully and beautifully [made]," Jones said, "[and] if this doesn't end up with Guillermo back at the Oscars, I will be surprised. I will be very surprised."
This will not be del Toro's first foray into aquatic-based stories, as El Espinazo del Diablo, El Orfanato, Pan's Labyrinth, and both Hellboy films feature scenes set underwater, or else use rain and bodies of water.
The Shape of Water hits theaters December 8, 2017.