'American Assassin' Looks Like a Counter-Terrorism Winter Soldier
"We kill people who need to be killed."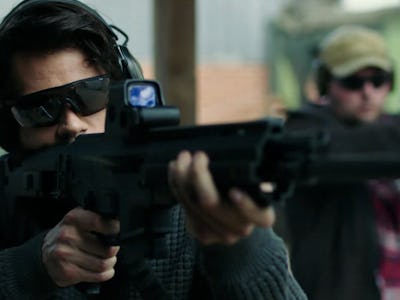 Lionsgate
The first official trailer for Michael Cuesta's American Assassin, starring Michael Keaton, Dylan O'Brien, and Taylor Kitsch, reveals that O'Brien's Mitch Rapp has been through some shit. After a seemingly random act of terror results in the death of his fiancé, Mitch goes off the rails, honing his combat skills until he's a walking, talking weapon. The upcoming film is based on Vince Flynn's novel of the same name, but the character's cold efficiency with guns and knives definitely draws comparisons to Marvel's Winter Soldier, the metal-armed assassin with a tragic backstory.
When the CIA gets a hold of Mitch, they turn him over to Cold War vet Stan Hurley (Keaton) for some proper training. Stan is the necessary mentor in the story, the damaged "warrior" — as described in the trailer by CIA Deputy Director Irene Kennedy (Sanaa Lathan) — who lives in the woods and hoards guns. Mitch gets dragged into Stan's mysterious training program where the vet beats up on tall, generically attractive, 20-something men to toughen them up and get them ready to do what needs to be done.
Here's the film's official synopsis:
American Assassin follows the rise of Mitch Rapp (Dylan O'Brien), a CIA black ops recruit under the instruction of Cold War veteran Stan Hurley (Michael Keaton). The pair is then enlisted by CIA Deputy Director Irene Kennedy (Sanaa Lathan) to investigate a wave of apparently random attacks on both military and civilian targets. Together, the three discover a pattern in the violence, leading them to a joint mission with a lethal Turkish agent (Shiva Negar) to stop a mysterious operative (Taylor Kitsch) intent on starting a World War in the Middle East.
American Assassin is O'Brien's first run as an all-out action star. Best known for his role in MTV's Teen Wolf and as the lead in the dystopian Maze Runner film series, O'Brien has slowly worked his way up from being the lanky, on-screen best friend of a werewolf to a bona fide black ops recruit. Here's hoping he ends up better off than Bucky Barnes ever did.
American Assassin premieres in theaters September 15.