Stiles's Return Sets Up Stydia for the Last Season of 'Teen Wolf' 
This kiss has been six seasons in the making.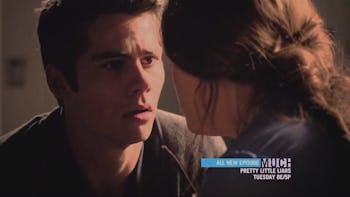 MTV
Since Dylan O'Brien blossomed into YA dystopian hero on the big screen, he's only starred in a handful episodes of Teen Wolf this season. The writers cleverly turned O'Brien's absence into a plotline that highlighted the best of Teen Wolf: the strength of the friendships that has bound the characters together for six seasons. The pack's penultimate adventure involved defeating a literal supernatural army in the mid season finale. But the craziest thing that happened in the episode had nothing to do with the supernatural, and everything to do with a kiss that's been six seasons in the making.
At the very beginning of the season, just before the Wild Hunt erased Stiles from reality, he confessed his love for Lydia in a desperate bid to get her to remember him anyway. He then spent most of the season offscreen in purgatory while his friends struggled to find the missing puzzle piece of senior year. Lydia and the others soon began to remember Stiles, piecing together an outline of their friend one memory at time. While recounting these memories, an unmistakable pattern began to emerge to Lydia: In every single one of these strange snatches of a reality she doesn't remember, she's perpetually falling for Stiles.
When Lydia finally pulls Stiles out of purgatory and they reunite in the real world in Tuesday's episode, Lydia blurts, "I never said it back" referring to the last time she saw him in the real world. Stiles rushes to her, assuring her that he already knew she loved him, and six seasons of slow burn finally culminated in a kiss that fans have been waiting a lifetime for. After quickly defeating the big bads by turning a Nazi Alpha werewolf and the Ghost Riders against each other, the episode wastes no time in skipping to the last day of senior year. In an unusual turn, the last ten minutes focuses on where the characters are headed off to for college instead of setting up the Season 6B villain.
With the lack of a new big bad to agonize about, fans are left with just a hint of what's to come in 6B. It'll most likely be set in the summer before freshman year of college. It'll have something to do with the APB on the dead body found in the woods that Stiles and Scott overheard on the police radio — a nice call back to the pilot of the show. But most importantly, fans will have one whole glorious season of Stydia before the show concludes.
Whether or not the pair stays together, Teen Wolf fans certainly have a lot to look forward in Season 6B. No matter how the series ends, it's guaranteed to be an emotionally satisfying roller coaster right down to the last second.