Fans React to Paul Walker Tribute in 'The Fate of the Furious'
The new 'Fast' film contains a touching Paul Walker tribute. Plus it's making a ton of money.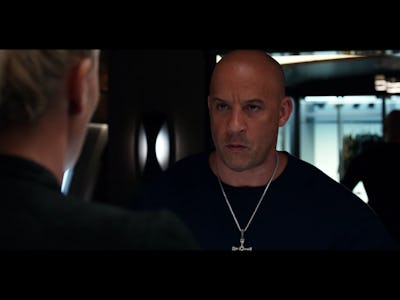 Universal
The eighth installment in the Fast & Furious franchise, The Fate of the Furious, debuted this weekend, and Universal predicts that it will break the record for highest-grossing global release weekend.
With Universal estimating the film's domestic gross at $103.8 million and overseas totals at $430.4 million, Fast 8 could earn $534.2 million in its opening weekend, breaking the record set in 2015 by Star Wars: The Force Awakens.
Besides the excitement around the film's massive financial success, fans are tweeting about the film's touching tribute to Paul Walker, one of the franchise's stars who died in a tragic car accident in 2013 while Furious 7 was still in production. On Saturday, Twitter became a hotbed for fan reactions to the emotional moment at the very end of the film. (Spoilers ahead.)
"The most important thing in life will always be the people in this room, right here, right now."
A Tear Jerker Ending to Fate of the Furious
Family Is Everything
The franchise's probably-not-final installment starts out with Dominic "Dom" Toretto (Vin Diesel) and Leticia "Letty" Ortiz (Michelle Rodriguez) cooling it in Cuba. The action quickly turns to street racing, with Dom pushing a ragged-out little coupe to its limits, turning the exposed turbocharger bright orange before the engine overheats and bursts into flames.
Things soon get complicated as a cybercriminal named Cipher (Charlize Theron) pulls Dom into a complicated international espionage plan, forcing him to turn against his family under threat of blackmail.
At the end of the film, we meet the object of Cipher's threat: Dom's baby boy. As a tribute to his friend Brian O'Conner (Paul Walker), and in fitting with the franchise's heavy focus on family, Dom names the baby Brian.
This in-universe salute to Brian parallels Diesel's IRL eulogy to Walker: In 2015, he named his daughter Pauline in honor of his late friend and co-star. Fan reactions are, unsurprisingly, emotional.
#BabyToretto
Tears
Beats by Baby Brian
Little Brian
:)
Isn't "Pauline" Close Enough?
A Crowd-Pleasing Ending
I'm Not Crying. You're Crying!