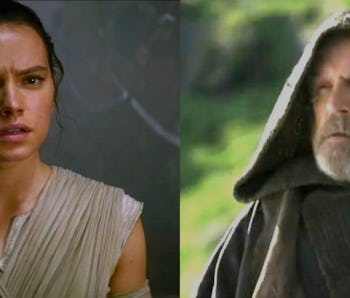 Entertainment
Mark Hamill Keeps Joking That Rey Is Luke's Daughter
Lucasfilm
Luke Skywalker will be Rey's master and mentor in the upcoming Star Wars: The Last Jedi, but the real question is whether or not he's also her father. According to prankster and Luke actor Mark Hamill, the answer is, maybe, yes.
Don't get excited, though. Hamill is a notorious prankster and known for riling up fans with a smile on his face. He even noted during the Last Jedi panel that his actual children call him out for making dumb "dad jokes" all the time. Rey parentage jokes take the "dad joke" to a whole new level, though.
Hamill, while speaking about how excited he was to be on stage with everyone, went down the panel line, calling The Last Jedi director Rian Johnson "God" and Rey actor Daisy Ridley "my daugh—my colleague." The crowd and panel members laughed, as did Hamill before he moved on and immediately referred to John Boyega's Finn as "my son."
Earlier in the panel, moderator Josh Gad — who's been infamously harassing Ridley about Rey's parentage and posting increasingly funny, celebrity-infused videos to Instagram about his efforts — questioned Ridley upon her entrance.
"Are you and Luke related by blood?" Gad asked, to which Ridley smiled and remained tight-lipped. He continued with: "Are you a Skywalker? Is your name Rey Skywalker? Rey Kenobi?" He then poked fun at the ridiculousness of Rey's single name, asking if she's "The Madonna of Jakku."
It seems fans will have to wait for The Last Jedi to get any real answers about Rey's parentage, though Ridley did say that the film goes "deeper into Rey's story" and that Rey meeting Luke proves that "your heroes might not be what you expect."
Watch The Last Jedi panel below:
Star Wars: The Last Jedi premieres in theaters December 15.