How to Stream Kendrick Lamar's New Album 'DAMN.'
Hey, the song with U2 is actually really good!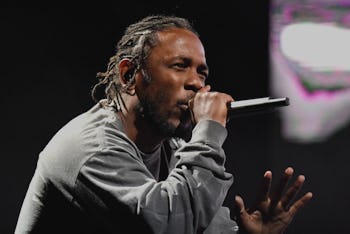 Getty Images / Frazer Harrison
Kendrick Lamar's new album, DAMN., is here. The 14-track follow-up to his last studio album, the masterful To Pimp a Butterfly, officially came out on Friday, April 14 — though it leaked the previous night. Here's how you can listen to it.
K. Dot teased the album late last month when he unveiled a new song, "The Heart Part 4.," which closes with the lyric "y'all got 'til April the 7th to get y'all shit together." Well, it took just a little bit longer than that, but now you can stream DAMN. on all the usual suspects: Spotify, Apple Music, and Tidal.
DAMN., the rapper's first project since last year's untitled unmastered., is getting a pretty positive reception in the first hours since it dropped. The LP includes the track "HUMBLE.," which came out a couple weeks ago. "The Heart Part 4." is not on the album, but it does feature Rihanna on one song, the somewhat glitchy "LOYALTY." Another track features U2, which worried some rap fans at first, but "XXX." is actually pretty good. It's a serious, aggressive critique of American culture and society, and Kendrick calls out President Donald Trump again.
"Donald Trump's in office. / Qe lost Barack and promised to never doubt him again," he raps. "But is America honest or do we bask in sin?"
The second track, "DNA.," is emerging as a frontrunner for the best track on the album — it's certainly the biggest banger.
Stream DAMN. below or look for it on one of the other streaming services.