Bane-Lookalike Mask Hushme Has a New Design
But fear not Batman fans, the designers have you covered.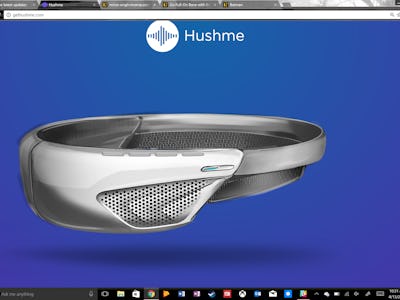 Hushme
Hushme, the personal noise-cancelling mask that made you look like Bane, is getting a redesign. The device, which wraps around the wearer's head and covers their mouth to suppress or mask the sound of their voice in crowded spaces, is now white instead of black, meaning it doesn't quite bear the same resemblance to the Batman villain we all know and love.
In an email to newsletter subscribers, Hushme said, "In particular, we worked on the color range, we did a lot of trial testing in order to upgrade the shape and to set up size-adjusting mechanism." The new design is certainly less menacing at first glance, with the white color giving Hushme a more futuristic feel, rather than a supervillain-y one.
Hushme's original design garnered attention on social media sites like Twitter as more and more people began to notice and comment on the comic book similarities of the device.
The differences with the new one are striking.
Asked if the decision to update Hushme's look was at all driven by its former similarities to Bane, Hushme's Roman Sakun told Inverse via email, "Actually, we always planned to use white color. Current black one is just a result of 3D printed prototype - we used black plastic."
So it would seem that Hushme was always destined to change in this way. But fans of the original sinister design need not be totally disappointed. Sakun also assured us that "we still have an idea to produce a special edition - like a true Bane mask for real fans." The dream isn't dead after all.
Plus, there's an added bonus: If you squint in just the right way, the new Hushme does bear some resemblance to the iconic stromtrooper helmet. Call them rebel scum behind their backs, because they won't hear you with Hushme.
The company has also announced plans to begin a Kickstarter campaign sometime in the near future. Stay tuned, aspirant Banes and Imperial soldiers.