The Skyscraper of the Future Has a Farmers' Market and Drone Floor
It's social creativity at its finest.
by Monica Hunter-Hart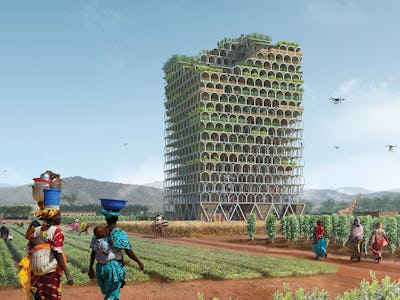 Photo via eVolo / Pawel Lipiński, Mateusz Frankowski
The annual skyscraper contest by architectural magazine eVolo isn't a competition to design the next supertall shell for untraceable caches of foreign investments. Where's the fun in that? No, it's far more thrilling to imagine a sunken Central Park than some building-sized nail shooting up from the concrete.
The contest by eVolo regularly draws in some of the most creative compositions you're likely to ever see. And the 2017 winners — announced this week — are appropriately dreamy.
Entries were required to use innovative methods to explore solutions to social, economic, and cultural problems. "What is a skyscraper in the 21st century?" the contest organizers challenged entrants. "What are the historical, contextual, social, urban, and environmental responsibilities of these mega-structures?"
Some 444 designs were submitted, and judges chose three winners and awarded 22 honorable mentions. This is the eleventh year for the contest that "recognizes visionary ideas for building-high projects that through the novel use of technology, materials, programs, aesthetics, and spatial organizations, challenge the way we understand vertical architecture and its relationship with the natural and built environments."
Below are the three winners:
First place went to the beauteous "Mashambas Skyscraper," a movable and scalable marketplace and education center. Designed to travel widely around sub-Saharan Africa, it would facilitate trade and training in agricultural techniques.
The cross section image below shows how each level might be used:
Second place, called "Vertical Factories in Megacities," is a vision for moving factories back into cities by breaking them into pieces and assembling them into high-rise structures. Organic waste from the factories would be "transformed into valuable products including water, fertilizer, heat, and electricity." These products would then be used to create natural environments like the hilly, verdant terrain in this image.
The designers offer this bit of profundity: "The main concept of this design is to let people be aware of the truth that the natural environment is a loop, everything you produce will then form the new world."
Third place, called "Espiral 3500," is a response to problems arising from tourism on the eastern coast of Spain. The design creates public space in a vertical format instead of the traditional horizontal format, which would minimize urban sprawl. It would help prevent areas from turning into ghost towns when tourists leave for the winter.
The designers ask this game-changing question: "Why not place public spaces inside buildings?"
Among the 22 honorable mentions were these highlights:
A "Reverse Climate Changing Machine" called the "Heal-Berg," made for Antarctica.
A "Socio-ecological Vertical Community," made for Tanzania, is designed to be space-efficient, affordable housing that fosters a strong community.
The "Mountain Skyscraper in Yosemite" that acts as an Observatory and Conservatory.
Unfortunately, the prize isn't a grant to actually create these buildings; it's a relatively small cash reward, plus the associated publicity. But here's hoping we see some of these designs come to life one day.