A Hive of Drones and an Icelandic Data Center Would Make Awesome Futuristic Skyscrapers
These runner-ups for eVolo's skyscraper competition are unearthly.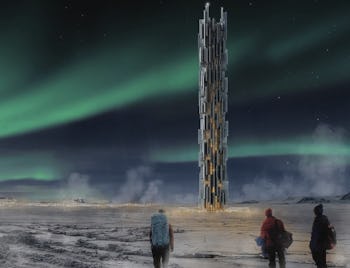 Skyscrapers etch out our horizons and stand as profound landmarks in cities. They make up an essential part of future urban designs. Architecture and design journal eVolo for the past decade has recognized the most imaginative and other-worldly buildings of our future in the magazine's skyscraper competition. While first place went to an incredible 1,000-foot glass-walled structure surrounding an excavated Central Park, the second and third place positions were rewarded to an impressive data center in Iceland and a drone hive in New York City.
Here's a look at those stunning runners up:
The Hive: A Skyscraper for Drones
Imagine, instead of the ultrathin, grid-style luxury apartment building that currently occupies 432 Park Avenue, a white cylindrical building that would be home for hundreds to thousands of drones. Second-place winners Hadeel Ayed Mohammad, Yifeng Zhao, and Chengda Zhu proposed this vertical control hub humming with drones as an alternative use of the land on 432 Park Avenue.
The central control terminal has various docking and charging stations — called modules — protruding around the circumference of the entire building. The modules' configuration matches nine different types of drones which dock horizontally. The design also creates a vertical highway around the tower, which would help mitigate issues with no-drone-fly-zones.
The designers say the building is intended to help meet the future demands of advanced drone technology in daily life. Companies like Amazon, DHL, and Walmart, which are trying to dip into the drone market, may actually be able to execute their plans if a skyscraper like this existed in cities around the world.
Iceland's Sustainable Data Center
Third-place winners, Italy's Valeria Mercuri and Marco Merletti, submitted this alien-looking design for a data center that looks like something out of a science-fiction film. The massive "3D motherboard" is depicted amidst a desolate landscape, with mist from geothermal vents blanketing the horizon, and the glow from the Northern Lights above. The building's facade is like a living entity, hardware components and pods moving and adjusting with upgrades.
The data center would serve as a central home for internet service providers, storing all the information generated. The designers proposed this building because today's data centers consume a lot of electricity and leave behind large carbon footprints, which is why they picked Iceland as the data skyscraper's location. The country is in a prime geographic spot between Europe and the United States, has a wealth of renewable energy sources (85 percent of the nation's power comes from renewable energy sources like geothermal vents), and reaps the benefit of the Arctic Circle's cooler temperatures which can alleviate stress on cooling systems (other ideas to keep data centers cool involve putting them under water).
Evolo received more than 400 project entries of skyscrapers around the world. Granted, it's very unlikely that these buildings will ever see the light of day, the competition provokes designers to use what they know about technology, materials, and spatial organizations to better understand how to incorporate skyscraper architecture into natural and built environments.
Read more at EVolo.