What If We Put Central Park at the Bottom of a Hole and Built a Wall Around It?
Hey you, naysayer. It could happen.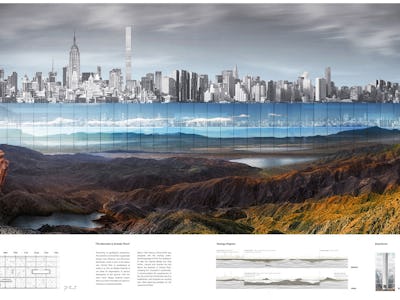 If you've ever thought the only things missing from New York City's Central Park were a 1,000-foot excavation and a habitable glass structure in which people could live, then you simply must see "New York Horizon," the recently named winner of Evolo's 2016 skyscraper competition.
The lofty and highly unrealistic concept design would see Manhattan's iconic park excavated to a depth of 1,000 feet to bring out natural features like mountains and valleys, right in the middle of America's most populated city. Then a continuous structure would wrap around the 1.3-square-mile park, providing seven square miles of habitable space for denizens of the city that never sleeps. It would be like building 80 Empire State Buildings that were designated as living space, and every resident would have a view of the park.
Yitan Sun and Jianshi Wu, the design wonks behind this no-holds-barred concept, wanted to "make Central Park available to more people…to reverse the traditional relationship between landscape and architecture, in a way that every occupiable space has direct connection to nature." Shiny glass walls would reflect the sky and the other walls, offering New Yorkers an illusion of infinity.
EVolo's skyscraper contest is known for its outlandish entries, and the other finalists for this year's competition are similarly highfalutin. The second place entry, called "The Hive," is a skyscraper home for drones. Third place went to a data center skyscraper concept in Iceland.
But that first place design, man. If you lived here, you'd be home by now: