The 'Thor: Ragnarok' Poster Gives Off 'Gladiator' Vibes
It's the first to show the hero without his hammer.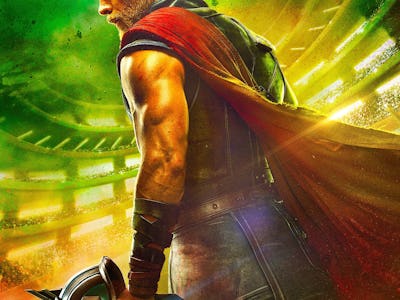 Thor: Ragnarok
The Thor: Ragnarok trailer has been released and along with it comes an official movie poster. It says a lot for just one image, both reinforcing the almost-comedic trailer and hinting at some of the more serious undertones of this third film about the Nordic god played by Chris Hemsworth.
The trailer has already been garnering buzz for it's more lighthearted approach, especially in the wake of the darker tone of its aptly titled predecessor, The Dark World. At first glance, the new movie poster continues with that tonal shift.
In a departure from the artwork that has come before, Ragnarok's poster makes user of a broader, more saturated color palette. The posters for the previous two movies were filled with grays and washed-out shades of blue, and the only sharp color was the red of Thor's cape. While the new poster keeps the bright red cape, it also casts Thor in a wash of green and yellow, colors not seen anywhere in the other posters.
It's an artistic shift that does a lot to reinforce the trailer's promise of a different kind of Thor movie, one with perhaps a bit more personality.
But that's not all the poster shows. A closer look at the differences between all three posters yields some insights (besides the fact that Hemsworth got a haircut) about the thematic direction the new movie will be taking.
You might notice that, for the first time, Thor isn't holding his hammer. That's because, as the trailer shows, it's broken. Instead, Thor is holding a helmet, a defensive tool rather than an offensive one, which indicates Thor's lack of control over the situation. In yet another indication of his diminished status, Thor is only sporting half of his usual cape.
Finally, it's worth noting that he is alone, no longer surrounded by the supporting cast.
In fact, that solitude combined with the fact that he appears to be standing in some kind of arena (which would make sense, given his impending fight with Hulk in the trailer), is highly reminiscent of Ridley Scott's 2000 film, Gladiator.
In that film, Russell Crowe plays a disgraced Roman general, Maximus, who attempts to regain his honor and save Rome from an unfit ruler by fighting in the Colosseum.
Given that Thor's fight with Hulk is set to play a central role in Ragnarok, and that he is fighting in order to prevent the event that will bring about the end of the Asgardian people, it's hard to imagine that the poster similarities weren't intentional.
To find out just how similar the movies really are, fans will have to wait for Ragnarok's release on November 3, 2017.