Kamandi Is on the Table for 'Legends of Tomorrow' Season 3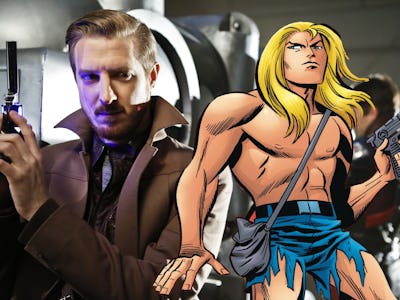 The CW, DC Comics
Is the Last Boy on Earth coming to the Arrowverse? Kamandi a cult favorite Jack Kirby character, seems poised to make his way to DC's Legends of Tomorrow for its third season on The CW. The series's executive producer Marc Guggenheim practically said as much in a recent interview.
"We have talked about Kamandi in the writers' room," Guggenheim told Entertainment Weekly in its radio show Superhero Insider. "He's definitely a character that we love and a concept that we love. Certainly, we've opened the door for that kind of story. I can't say that we're absolutely committed to doing Kamandi next year. It's just totally on the table and certainly something we've been talking about."
In the Season 2 finale of Legends of Tomorrow, which aired on Tuesday, the Legends crashed in Los Angeles 2017. This wouldn't be a big deal, except for all the ancient and unbelievably futuristic skyscrapers populating the city. (And the dinosaurs, too. Don't forget all the dinosaurs.)
After the rewriting and overwriting of history in their attempts to stop the Legion of Doom, the Legends became toxic for the timeline and caused time to unfold unto itself. Thus, Legends of Tomorrow made a pocket timeline, resulting in a seemingly chaotic and sort of post-apocalyptic world. Fans began speculating if the third season will feature none other than Kamandi, DC's post-apocalyptic pulp homage to Tarzan and Planet of the Apes from the legendary Jack Kirby. With Kirby's 100th birthday being 2017, it'd be quite the celebration to predominantly feature one of Kirby's most memorable creations.
Legends of Tomorrow will return to The CW later this year.