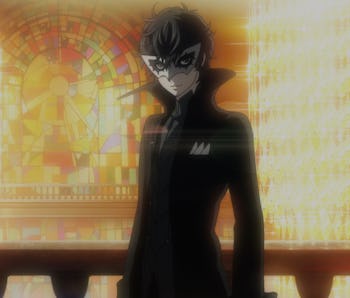 Gaming
'Persona 5' Is a Beautiful Game Fans Cannot Stream Online
And boy, the content creators and streamers aren't happy about it. 
Nicholas Bashore
After nearly a decade of waiting for the next major entry in the Persona series to arrive on the PlayStation 4 and PlayStation 3, players in the West finally got the chance to grab a copy of Persona 5 for themselves this Tuesday following the game's release in Japan late last summer. As you might have guessed, Persona 5 has quickly climbed the charts to be one of the best Japanese role-playing experiences available, largely due to the sheer amount of style packed into almost every aspect of the game. Between the manga-inspired menus, the robust turn-based combat system, astounding personalities, and general high school shenanigans, Persona 5 has a little something for everyone over the course of its near 100-hour run time.
The game has been received quite well since release, with GameSpot, IGN, Polygon, and Game Informer giving Persona 5 near-perfect scores. When you head over to Twitter the results are the same, with players praising the game's sharp sense of style, gorgeous effects, soundtrack, and drastically different approach to dungeon crawling.
For many, it seems like Persona 5 has been setting itself up to be a great experience. That is, unless you're a content creator interested in sharing your experience with the game on Twitch, YouTube, or another social gaming sites.
On launch day the game's publisher, Atlus, released a set of guidelines for both video content and live streams, which is when things took a turn for the worse.
The blog post outlining the rules for streaming or sharing video content for Persona 5 is a relatively harsh one compared to many other large video game releases, which often allow and encourage their players to share experiences however they see fit with their audiences.
Essentially, Persona 5's restrictions only allow you to play through one-third of the game, while also telling players not to showcase boss fights, major story moments, the end of the game's palaces, and so, so much more.
If players decide to for it regardless? Well, Atlus will meet them with content ID claims, channel strikes, or account suspensions, which has prompted many content creators to avoid posting videos or stop streaming it altogether.
And while Atlus USA has clearly stated that they're working with Atlus Japan to remove some of Persona 5's harsh video and streaming restrictions, it hasn't stopped Twitter from responding with dozens of tweets about how ridiculous they feel the policy is.
Either way, it'll be interesting to see how ATLUS responds to the backlash over the next few weeks. Naturally, it could lead to a policy update with less restrictive guidelines, but we'll more than likely see it go down as one of the many times a Japanese video game publisher didn't agree with the content creators and streamers hoping to play their game online.
Even if people won't be streaming Persona 5 (for the time being, at least), we're still going to hear about it and this controversy one way or another. And, we'll for sure hear about it the next time a Japanese publisher tries to put the kibosh on streaming.