Kylo Ren Will Probably Rock a Gnarly Scar in 'The Last Jedi'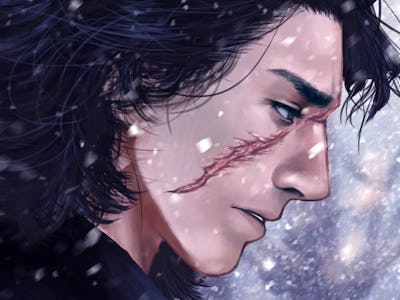 thegreencarousel.tumblr.com
In an obvious attempt to be even more like his grandfather and de facto Dark side role model, Darth Vader, Kylo Ren will probably keep the lightsaber scar inflicted by Rey during Star Wars: The Force Awakens. In fact, there's a good chance he'll proudly bare said scar during the upcoming Star Wars: The Last Jedi.
On March 31, popular Star Wars fan site Making Star Wars posted what it's calling "accurate representations" of a few character looks in Star Wars: The Last Jedi. This includes Captain Phasma's rumored new staff and professional fanboy Kylo Ren's new vibe.
It's been kind of known for a while that Kylo might be copying his long-dead grandfather's cape, ditching his weird, tattered version from The Force Awakens for a more legitimate classic style. But the cape is totally unconfirmed for the time being. What is confirmed is what fans were able to see for themselves in The Force Awakens: Rey slicing up Kylo's face with the blue Skywalker lightsaber. Hot laser swords tend to leave a mark.
The unconfirmed "character looks," as detailed by Making Star Wars's post, shows a Kylo Ren with a scar slashed across his face from just above his left eyebrow to the right edge of his jaw. The scar is undoubtedly from Rey's hack job during their snow-filled battle scene in The Force Awakens. And while it would probably have been a very simple thing for the First Order's doctors to patch up Kylo's face, it's easy to assume that he very dramatically told them to leave it while staring in a mirror and admiring his new beauty mark.
Having a definitive scar is, after all, a family trait. Anakin's ghost, if it does, in fact, show up in The Last Jedi, will undoubtedly judge the hell out of Kylo's life choices.
Star Wars: The Last Jedi premieres in theaters December 15, 2017.