'Overwatch' Almost Had a Hero That Was Just a Cat in a Jetpack
"Then every once in awhile it would paw at the controls. It was a cat in a jetpack."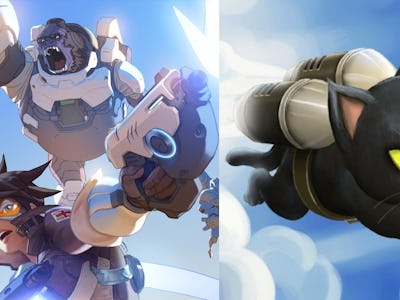 Blizzard's Overwatch has a diverse array of characters — 24 in total — including a cyborg ninja, a talking gorilla, and several sentient robots — but did you know that it almost had a cat that flew around with a jetpack?
In a new interview with Gamespot, Jeff Kaplan, the director of Overwatch, confirmed that at some point, there was indeed a cat on the roster. The kitty was later scrapped for being perhaps a little too weird in a game that, for all its fun, does tend to take itself rather seriously:
"Then there was this one hero that was a huge internal debate on the team because we just loved it so much but it didn't make it. It was this jetpack and it had this cat that laid in it, like a cat does. Then every once in awhile it would paw at the controls. It was a cat in a jetpack."
Let that just sink in for a moment.
While speculations can run rampant about the cat's toolkit and moveset — particularly how it would function alongside fellow jetpacker Pharah and what it's primary weapon might be — it's sadly a dream that will never be realized for fans. Kaplan went on to say, "I just can't imagine it from first-person, seeing those little cat paws …"
Looks like fans of felines and Blizzard's shooter are going to have to settle for those videos where all of the humans in Overwatch are replaced with cats.
Overwatch's newest hero, a robot centaur named Orisa, is active on all platforms, and fans are hotly anticipating news about a potential new Doomfist character.